21 new SF/F books to check out this April
A new pile o' books to add to your to-read list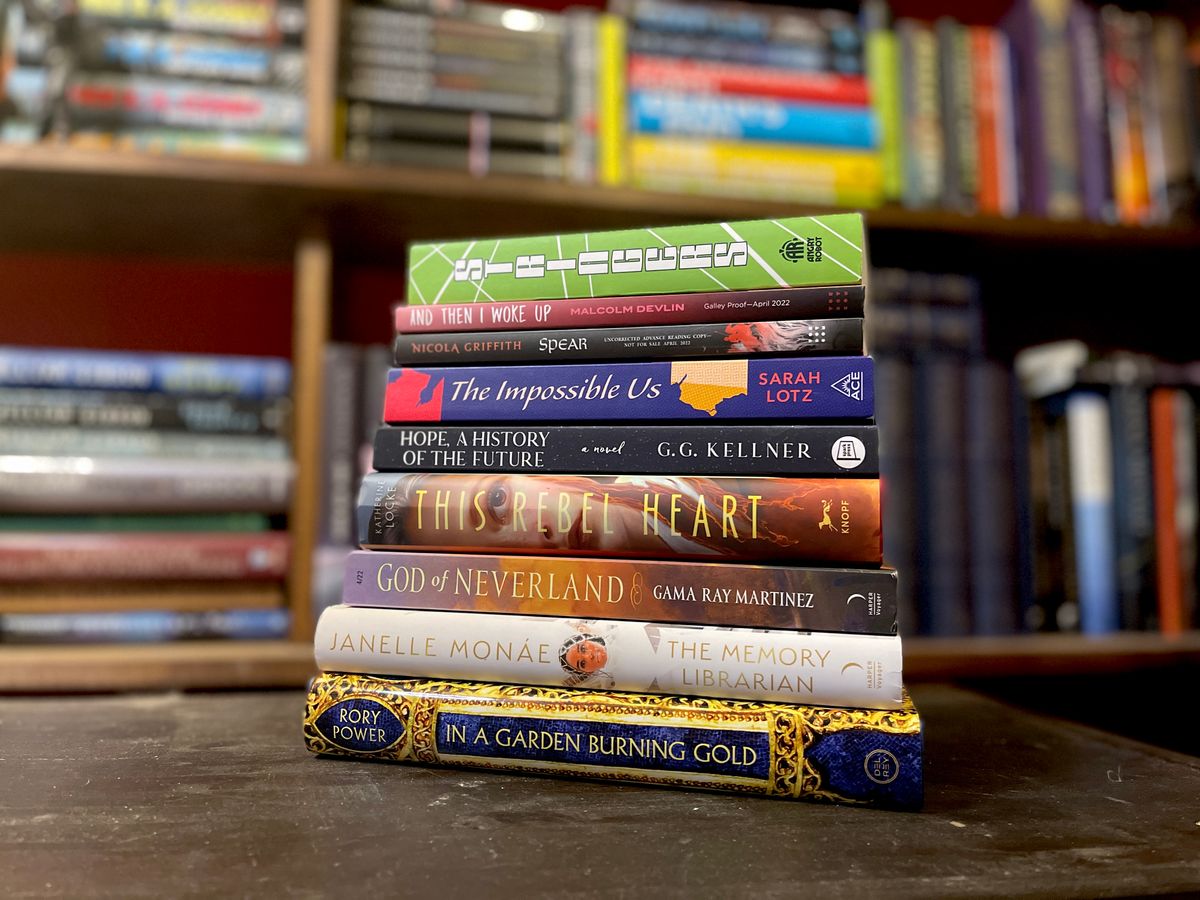 Spring feels like it's accellerating: January crawled by, but March positively blew past me. With the passing of the months, we have a new crop of books hitting stores this month, with a ton of excellent-looking titles, from authors new and old hitting book stores.
Here are 21 new SF/F books to check out this April (and a couple of holdovers from March). Here's the list for March (and a short make-up list to round out the month.)
As always: this newsletter is a Bookshop.org affiliate, and if you make a purchase through a link there, I might get a small commission.
---
Fantasy
The Blood Trials by N. E. Davenport (April 5th)
N.E. Davenport launches her debut novel The Blood Trials, the first installment of a duology that follows a young soldier named Ikenna, the granddaughter of a powerful general in the Republic of Mareen who had been assassinated. After his killing, she applies to join the nation's elite military unit, hoping to uncover the person who ordered her grandfather's death.
In order to become a member of the Praetorian Guard, she has to undergo a series of deadly trials, which might result in her own death. She has one thing that might help her though: her blood-gift, an ancient magic that imparts unnaturally fast healing and other powers, but one that must remain secret from her friends and allies.
Publishers Weekly says that it's an "ambitious epic that blurs genre lines, setting futuristic technology against a historical fantasy backdrop."
Aspects by John M. Ford (April 5th)
Tor made a big deal out of reissuing a whole bunch of John M. Ford's books a while back, many of which had gone out of print, like The Dragon Waiting (which I've had on my to-read list.) One of those books was unfinished at the time of his death in 2006, Aspect, and that book is finally out: an epic fantasy called Aspects.
The novel deals with a political clash between magicians and lawmakers in the Lescoray Republic. A politician named Coron Varic and a cavalry officer named Chase engage in a duel, which sets up a conflict between the two factions in the republic, which Publishers Weekly characterizes in its starred review as "a clever story line packed with action and intrigue."
Spear by Nicola Griffith (April 19th)
Nicola Griffith's latest is about a woman who grows up in the wilderness with her mother, enchanted by visions of a far-off land. When they encounter a traveler who speaks of a distant king, she realizes that she's destined to venture out of the woods for the kingdom of Caer Leon. Along the way, she disguises herself as a man and encounters fantastical adventures and challenges in a story that reimagines the trials and challenges of King Arthur through a queer lens.
Kirkus Reviews says that "turning the knight who finds the Grail into a young woman is obviously an innovation, but Griffith also transforms the very nature of the Grail quest," and that "Griffith is participating in a trend toward rediscovering diversity in the pre-modern world in a way that feels entirely organic."
Queen of Static by Matthew Kressel (March 14th)
Matthew Kressel has released a sequel to his 2015 novel King of Shards, Queen of Static. In this new adventure, Queen Mashit has taken the throne of Sheol and desposed its former occupant, and intends to bring life to Sheol by capturing four magical humans who have the power to sustain entire universes.
As she does so, she sends her daughter Daphna to Earth in an attempt to take over the world to further her rule. But Daphna has ideas of her own, and she allies herself with Ashmedai, the former ruler, while a former magician named Daniel Fisher has searched the far corners of Earth to try and find a doorway to Sheol and save humanity while doing so.
Nettle & Bone by T. Kingfisher (April 26th)
T. Kingfisher's latest adventure follows a young woman named Marra who was raised in a covenet and wanted to forego heroics or even a shot at the throne. But as she's watched her sister suffer at the hands of an abusive prince, she sets out to gather allies for a rescue, and is given three tasks: build a dog of bones, sew a cloak of nettles, and capture the moonlight in a jar. If she can overcome the challenges ahead of her, she might be able to save her sister and the kingdom.
This Rebel Heart by Katherine Locke (April 5th)
Katherine Locke reimagines the 1956 Hungarian revolution in their latest YA novel. Csilla knew the power of the river that ran through the country: it protected her family throughout World War II, but while her family was spared from the Holocaust, they weren't in the ensuing Communist takeover in the years that followed. After her parents were killed by the Soviets, she plans to flee from the country, but after her parents were exonerated, she has to decide whether or not to remain in Hungary to help a growing revolution, or let it all fall apart.
Publishers Weekly says that Locke "lyrically meld[s] facts and otherworldly elements, including the angel of death, Jewish folklore, and the Danube as a magical, life-giving river with which Csilla can communicate, Locke (the Balloonmakers series) offers an original, moving tribute to the bravery of freedom fighters—straight and queer, Jewish and gentile—who risked their lives for their cause."
The Impossible Us by Sarah Lotz (March 22nd)
I first encountered (god, 2014?) Sarah Lotz's writing with her gripping novel The Three, and her latest looks like a pretty different sort of read. She follows two strangers who're separated by more than distance. Bee's a young woman who's resigned herself to finding true love, and is content with her dating life, while Nick has been dealing with a difficult marriage.
When an angry email from Nick ends up in Bee's inbox, they end up corresponding, and as their back and forth continues, they begin to realize that they might be living in different realities.
Kirkus Reviews gave the book a starred review, saying that "Lotz takes what could be a confusing concept and makes it fun, heartbreaking, and eminently readable all at once. Bee and Nick's emails are witty and romantic, while their supporting characters are entertaining in both worlds. Lotz manages to combine romance and science fiction into a book that will produce laughter and tears."
God of Neverland by Gama Ray Martinez (April 12th)
Gama Ray Martinez reimagines the world of Peter Pan in his latest book. A boy named Michael Darling returns from Neverland and grows up, but never lost the desire for adventure, forming a group known as the Knights of the Round, which protects humanity from magical threats.
However, when things go wrong, he leaves the group, opting to return to a more mundane life. But when Peter Pan (really, a wild god named Maponos) goes missing from Neverland, Michael's drawn back into the world of adventuring for a final mission, along with some of his oldest friends.
Fevered Star by Rebecca Roanhorse (April 19th)
Rebecca Roanhorse returns to the city of Tova after the events of her acclaimed novel, Black Sun. The city has been destroyed, the sun blocked by an eclipse called by the Crow God, while a comet heralds the arrival of a new age. Serapio has been injured, Xiala has been searching desperately for him, and  Sun Priest Naranpa has been dethroned, and that she and Serapio might be more alike than they thought.
Kirkus Reviews gave the book a starred review, saying that it's "an excellent second installment that adds even more detail and intrigue."
---
Science Fiction
Dreams Bigger Than Heartbreak by Charlie Jane Anders (April 5th)
One of my favorite reads last year was Charlie Jane Anders' debut YA novel, Victories Greater Than Death, in which she followed the exploits of a young woman who discovers she's the clone of a legendary fleet admiral of an interstellar fleet and that she'll have to try and save the rest of the galaxy.
She's now back with a sequel, following Tina as she goes to study at the Royal Space Academy, while her best friend Rachel contends with an existential problem: she's an artist, but after encountering an alien artifact, she's unable to practice her craft, while Elza fights to compete within the Palace of Scented Tears for the chance to become a princess.
Writing in Locus, Gary Wolfe says that the middle installments of trilogies tend to be darker, and that Anders "manages all this with considerable panache, especially in its kinetic second half, but not before it spends a fair amount of time delving more deeply into the lives and anxieties of its young protagonists."
Read an excerpt.
And Then I Woke Up by Malcolm Devlin (April 12th)
In this short novella, Malcolm Devlin portrays a world overrun by a plague and monsters, one in which heavily-armed bands of the remaining survivors patrol the countryside to protect themselves.
But this plague might not be what it seems: those affected have their reality altered, and once "cured" survivor, Spence, is wracked with guilt, and when he's approached by a former inmate looking for her former crew, he jumps at the chance at redemption.
Publishers Weekly gave the book a starred review, saying that "Devlin does a superb job showing how his afflicted characters are compelled to accept outrageous beliefs that contradict the objective realities before them. The result is an unsettling cautionary tale for the age of alternative facts."
The Candy House by Jennifer Egan (April 5th)
Jennifer Egan returns to the same world as her Pulitzer Prize-winning 2010 novel A Visit from the Goon Squad with The Candy House, in which Bix Bouton, who runs a powerful tech firm Mandala has been seeking out a new technology to explore, and ends up settling on the idea of downloading memories in 2010.
A decade later, he's released "Own Your Unconcious", which allows users to access all of their memories or trade them for others, and through a series of characters, Egan follows the consequences of that technological change in the years that follow.
The New York Times says that you don't need to read Goon Squad to enjoy this one ("but it helps"), and that "It comes alive in dozens of entwined stories, in connections and convergences, in scenes set at country clubs, on rocky shores in the south of France, in recording studios, in backyards where neighbors fight like children over property lines."
Our Shared Storm: A Novel of Five Climate Futures by Andrew Dana Hudson (April 5th)
Andrew Dana Hudson weaves together five interlocking stories that explores the potential future of Earth as it faces a growing climate crisis. Set in the year 2054, during a future climate conference, he follows a five different stories featuring teh same characters, but with each unfolding differently as he highlights different realities to exploer the social, economic, and political ramifications that the climate crisis will surely bring to us all. It sounds like a fascinating experiment.
Matt Holder reviews the book for Strange Horizons and notes that each story is "dense with information and brimming with ideas. In proper futurist fashion, Hudson extrapolates several technological, social, and cultural possibilities, both intriguing and depressing."
Star Wars: Queen's Hope by E.K. Johnson (April 5th)
E.K. Johnson brings out a new story about Padmé Amidala (following Queen's Peril and Queen's Shadow) and follows the senator as she adjusts to the beginnings of the Clone Wars, while dealing with the fact that her husband, Anakin Skywalker is out fighting on the front lines.
While Padmé is out on a secret mission, her handmaiden Sabé assumes Senator Amidala's identity, and is horrified at the state of the government and the political machine that exists, and is forced to make some heartwrenching decisions that will test her loyalty to the senator.
Hope, a History of the Future by G. G. Kellner (April 19th)
In the nearish future, Joyce Denzell discovers a strange book in her family's new home: a history book written in the year 2200, recounting the last centuries of change. As the rest of her family takes their turns reading it (nudged along by the house's resident cat, Plato), they slowly uncover the story of Gabe, Mia, and Ruth, and their accounts of how the Earth has changed during their lifetimes as climate change takes hold.
Kirkus Reviews says that it's "an engaging, fablelike warning about climate change with a gentler approach than most eco–SF."
Sea of Tranquility by Emily St. John Mandel (April 5th)
I've been a huge fan of Emily St. John Mandel's novel Station Eleven, and I've been looking forward to her return to science fiction. She sets her story between two times, following an 18-year-old man as he travels to Canada after being exiled from the European upper class, and is moved when he hears a volin playing in an airship terminal.
200 years later, and a moon-based author named Olive Llewellyn has embarked on a Earth-wide book tour. In her latest book? A passage about a man playing his violin in an airship terminal in the midst of a forst.
And finally, a detective in Night City is tasked with investigating an anomaly deep in the wilderness, and discovers a strange set of people: an exiled son, a trapped writer, and a friend who's discovered something that can upend the universe. ‌‌
The New York Times reviewed the book, saying that "Mandel offers one of her finest novels and one of her most satisfying forays into the arena of speculative fiction yet, but it is her ability to convincingly inhabit the ordinary, and her ability to project a sustaining acknowledgment of beauty, that sets the novel apart."
The Void Ascendant by Premee Mohamad (April 26th)
Preemee Mohamad brings her Beneath the Rising (Beneath the Rising and A Broken Darkness) trilogy to a close with The Void Ascendant. Seven years ago, one lone survivor from Earth, Nick Prasad, broke through dimensions to a new world, and was hailed as a prophet by the servants of the Ancient Ones who destroyed Earth.
When he gets the opportunity to destoy the ancient ones from all of the multiverse, he'll jump at the chance, even if it means betraying his new home to do so. His first step? Break a god out of jail.
Publishers Weekly gave the book a starred review, saying that "Mohamed sends her characters careening through a multiverse of astonishing worlds, all lushly described and often unforgettably creepy, and holds them together with an intricate plot and gripping emotional tension. It's a mind-bending and thoroughly satisfying conclusion to a truly singular series."
The Memory Librarian: And Other Stories of Dirty Computer by Janelle Monáe (April 19th)
In 2018, Janelle Monáe released her third album Dirty Computer, a concept album that drew on her interest in science fiction and technology (and won a Hugo for one of the music videos). Now, she's returned to that world with an anthology: The Memory Librarian: And Other Stories of Dirty Computer, which includes stories from Yohanca Delgado, Eve L. Ewing, Alaya Dawn Johnson, Danny Lore, and Sheree Renée Thomas.
Publishers Weekly says in its starred review that it's a "moving, triumphant collection," with "big ideas, riveting action, and hopeful message."
Braking Day by Adam Oyebanji (April 5th)
A trio of generation ships have escaped Earth for Tau Ceti, leaving behind a world that's been taken over by artificial intelligence. At long last, the fleet has reached a milestone: braking day, where they begin their descent to their new home. Ravi Macleod has lived his entire life on the ship and has been training as an engineer.
On Braking Day, he spots something impossible during an inspection: a woman floating in space without a helmet, something that nobody else sees. The vision drives him to investigate its source, potentially throwing the entire mission into disarray.
‌Publishers Weekly hailed the book in a starred review, saying that "Oyebanji builds intrigue upon intrigue through the novel's first half and pays off the suspense with a series of jaw-dropping revelations. Innovative worldbuilding, a plot packed with surprises, and Oyebanji's nuanced exploration of social and cultural shifts make this a must-read for space opera fans."
Stringers by Chris Panatier (April 12th)
Ben knows a lot of random things, including the location of something called the Chime. He doesn't know anything about it, just where it is. That particular bit of knowledge has landed him in some trouble: an alien bounty hunter has tracked him down, kidnapped him, and is looking to sell him to the highest bidder, and it'll be up to all of Ben's abilities to escape.
Publishers Weekly gave the book a starred review, saying that "Panatier piles a lot of odd insect trivia on top of his off-kilter quest and populates the galaxy with quirky characters who come across as far more real than the reality TV housewives on whom Aptat bases his understanding of Earth culture."
Resilient by Allen Stroud (Aril 26th)
Allen Stroud releases the next installment of his Fractal series (Fearless came out in September 2020), set in the distant future when humanity has colonized the Moon, Mars, Ceres, and Europa as part of massive space program.
When a terrorist attack against a solar array in Atacama Chile disrupts that corporate / governmental partnership, humanity's future in space is thrown into question.
---
That's all for today. As always, let me know what books have caught your eye.
Andrew