13 new SF/F books to enjoy this December
A last batch of books to add to your TBR before the end of the year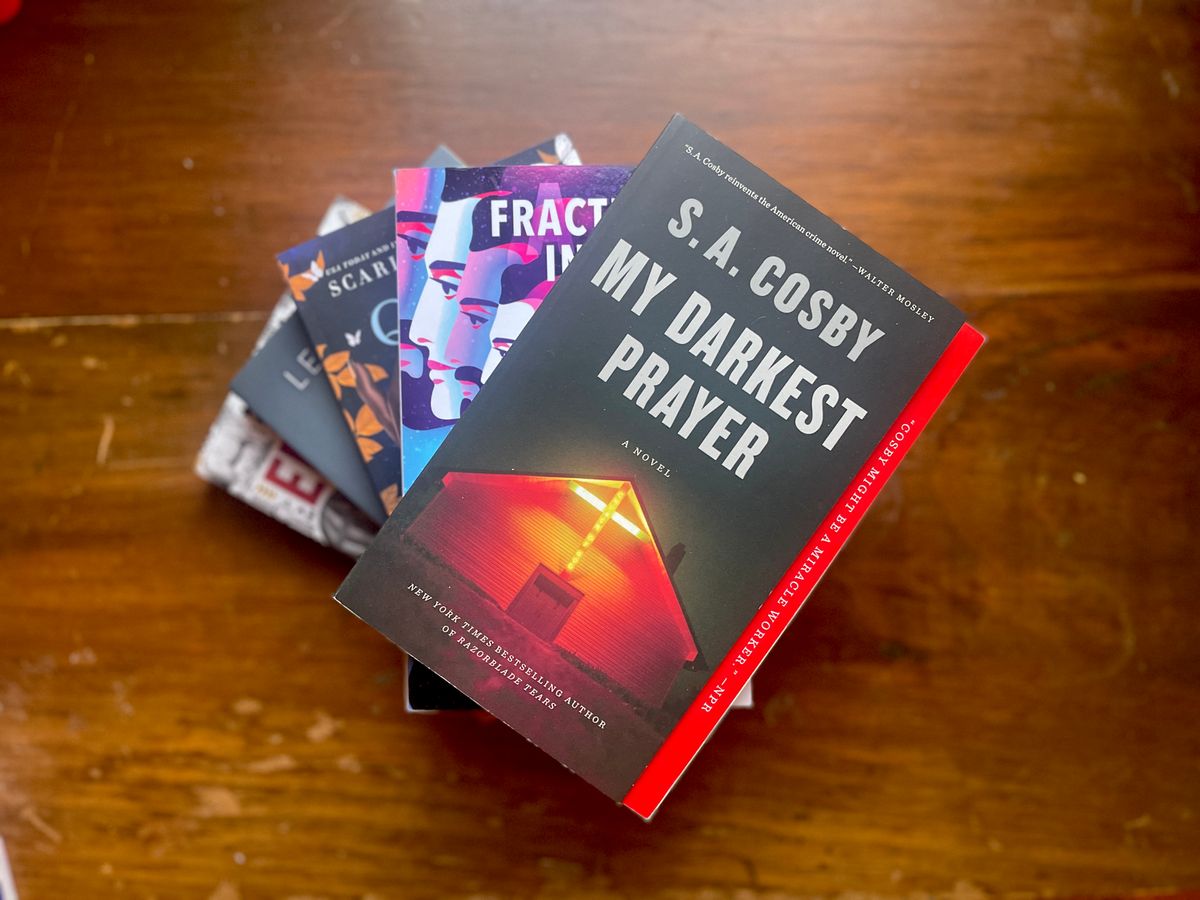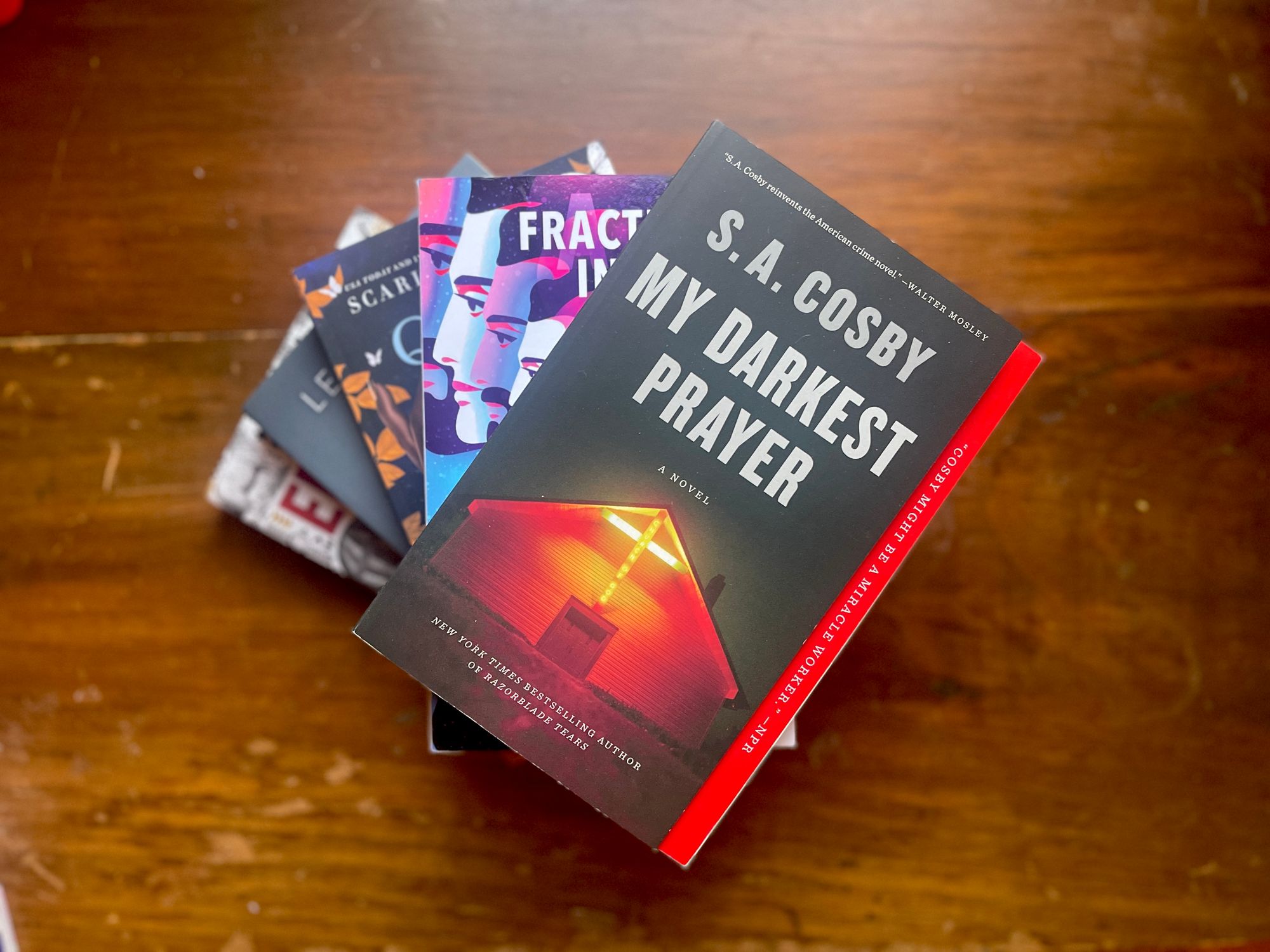 In case you missed it, I released the annual gift guide last week, with a bunch of recommendations for some of the higher-end / coffee table / special editions that might make a good gift.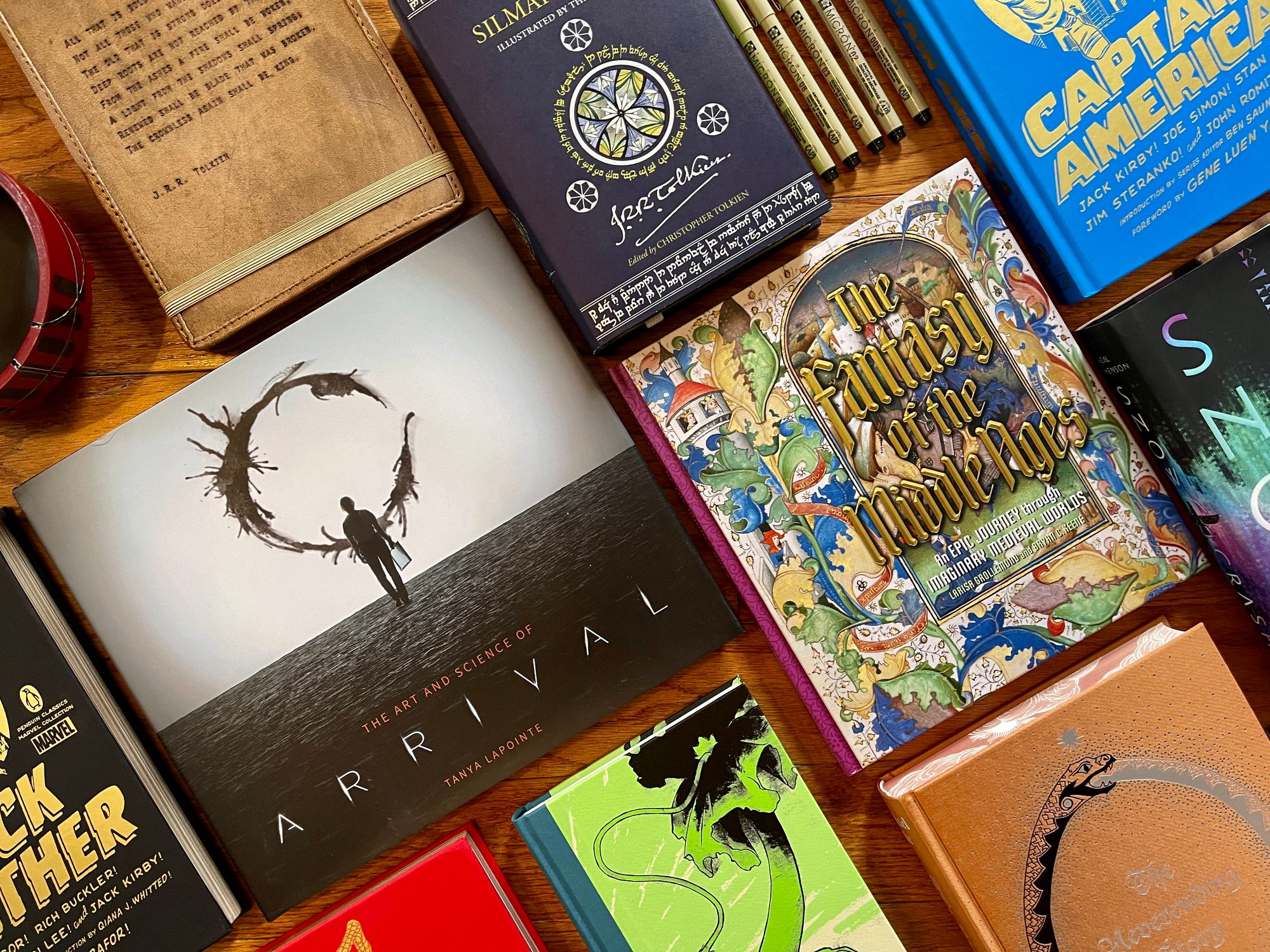 As always, you can find prior recommendations via the Book List tag, which has all of my monthly lists on this newsletter! There were a ton of great titles that hit stores, and if you're looking for a good gift idea, that's also a good place to look. (I'll also throw a plug in for my own book, Cosplay: A History.)
In the meantime, here are 13 new books to check out coming out in December (a couple from October / November as well). Bookshop.org links are affilates, and I might earn a small commission for any purchases made through them. It's one way to help pay for this newsletter's hosting. You can also support the newsletter by signing up as a paid subscriber. If you find a book that you enjoyed, or like this newsletter, please consider signing up to support the newsletter. It helps keep things going on this end.
---
Released in conjunction with the recent COP27 United Nations Framework On Convention Climate Change, this collection of short fiction brings together stories of the future that aim to inspire readers with some positive visions of what might lie ahead. Authors include Kim Stanley Robinson, Paolo Bacigalupi, Andrew Dana Hudson, and others.
Wormhole by Eric Brown and Keith Brooke (November 22nd)
Set in 2110, Earth has been facing some incredible problems: climate change, resource shortages, and population displacement. Humanity has spread to the Moon and mars, but they're not entirely sustainable, and we've set our sights on a new, extrasolar planet. Scientists know how to generate a wormhole, but first they have to place one end at their destination, which requires a long, 80 trip for the crew.
A few years into the journey, disaster strikes when the ship is destroyed. Decades later, a detective working on an 80-year-old cold case, and what he discovers is that his case and the starship disaster are linked.
Erewhon is one of those super early forerunners to modern science fiction: a utopian novel where a traveller named Higgs arrives in an idyllic land called Erewhon, and discovers that it's all based on some strange principles. It's particularly known as one of the earliest works to imagine artificial intelligence. This new edition comes on the book's 150th anniversary, and ahs an introduction by New Zealand academic Dr. Octavia Cade.
Over the last couple of years, I discovered two blockbuster books by thriller writer S.A. Cosby: Razorblade Tears (a taut revenge thriller about two dads avenging the deaths of their gay sons) and Blacktop Wasteland (about a father and former criminal reluctant to take on a getaway gig). Both have earned him considerable acclaim, and his publisher is bringing out one of his earlier books with a rerelease. (I'm really looking forward to his next new novel, All the Sinners Bleed)
My Darkest Prayer follows Nathan Waymaker, a former US Marine and sheriff's deputy who also works at his cousin's funeral home. He's the guy you go to when you need something handled when everything else doesn't work. When the local minister turns up dead, the town asks him to look into it, and quickly, the situation is more than it appears.
I missed this one a while back: a good friend of mine, Kristin Dearborn, released her latest book, a pulpy romp called The Amazing Alligator Girl. Florida's known as a travel destination for all sorts of strange things, including a park called Adventure Air Tour, which includes "the best alligator show east of Ocala", which includes an airboat tour through some alligator habitats, as well as a feeding demonstration. Visitors are warned that they might be in for a little more to the tours, as gunmen, swamp Nazis and mutant alligators are also in the area.
Aliette de Bodard's latest space opera follows a bot maker, mother, and scavenger named Xích Si, who was captured aboard her ship by the Red Banner pirate fleet. Expecting a brutal imprisonment, she's surprised when the pirate leader, Rice Fish, offers up an arranged marriage between the two.

Rice Fish, a sentient ship and wife of the Red Scholar, wants Xích Si's help to uncover who killed her spouse and why. By marrying her, she can offer up some protection and get her technical expertise. But as their investigation drags on, the two begin to fall for one another, and as guns start blazing in an interstellar war, they will have to figure out what their future looks like together.
Grimdark Magazine praised the book, saying "Aliette's prose is outstanding. It is descriptive and evocative without being overwrought, it is witty and full of emotion. Every character, every scene comes to life immediately and plastically, drawing the reader into this world of space pirates, family biological and found and relationships of all sorts. It is at times delicate, and at other times matter of fact and then again it will make you laugh out loud with dry wit."
One of my favorite science fiction artists is John Harris: his art has graced a ton of books, and I love his impressionistic style of spaceships set against massive planets or stations deep in space. Back in 2014, he released a retrospective collection, Beyond the Horizon, which is a beautiful overview of his work.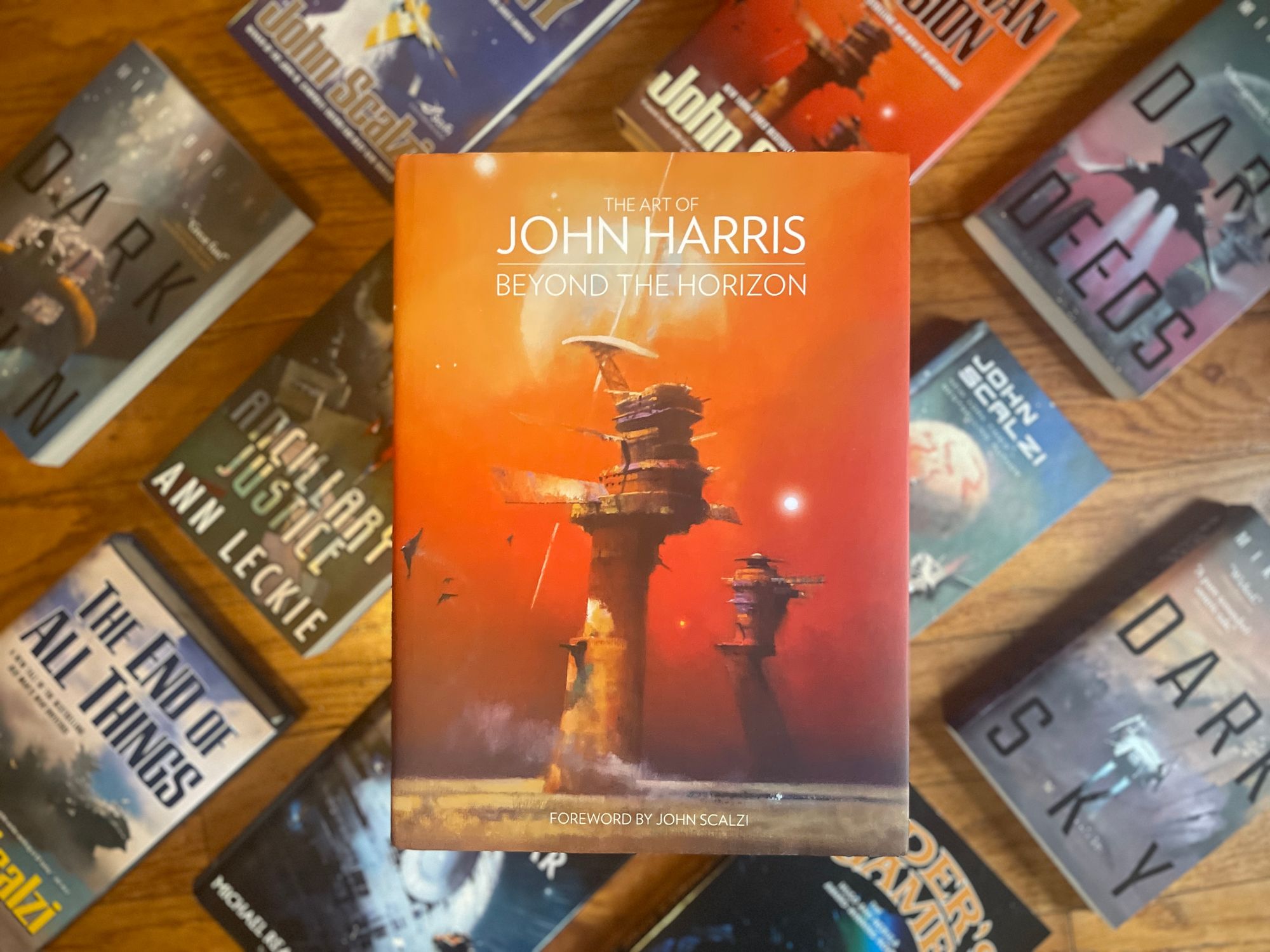 I'm very excited for his next one, Into the Blue, a followup that will include a look at his process for covers for books authored by John Scalzi, Ben Bova, and Ann Leckie.
Glyn Morgan puts together a exploration of science fiction's biggest themes, looking at everything from books to graphic novels, films, TV shows, and more, all in conjunction with an exhibit at the the London's Science Museum. The book looks at the machines we create, how we travel, communicate, and deal with threats and anxieties.
Under My Skin by K.J. Parker (March 2023)
This won't be released until next year, but Subterranean Press has started taking preorders. It's a big, 700 page book full of K.J. Parker's novelettes and novellas, as well as a novel-length story called Relics, which hasn't been published before. These stories cover everything from magicians to con men, while Relics follows a pair of unreliable narrators (an archduke and a relic hunter) as they describe their recent misadventures.
In this sequel to her vampire fantasy The King of Battle and Blood, Scarlett St. Clair picks up the story as the newly coronated queen Isolde has found a king: Adrian. Their relationship came at a steep cost: She's been exiled, and now isn't sure who to trust in the vampire stronghold of Revekka. More trouble is on the horizon: there are monster attacks, a mysterious and deadly crimson mist arrives to cover Cordova, and the only person she can trust is Adrian, even as she discovers more about his past that turns out to be extremely troubling.
A filmmaker named Hayes Figueiredo is hard at work on a documentary when he's visited by a physist named Yusuf Hassan. He explains that Hayes is the key to understanding a strange device that can predict the future, and takes him to a research facility where he finds another version of himself from an alternate universe created by said device.
As he observes this different version and the parallel universe from which he came, he finds a wholly different version – one who's married to Yusuf and begins to imagine what their life might look like. But when that alternate relationship ends in tragedy, Hayes realises that he has to figure out how to save his Yusuf, and together, they'll have to explore other realities and figure out how far they'll go for one another.
Publishers Weekly says "The epic love story forms an intense emotional core and Hayes's conversational narration charms."
The Union by Leah Vernon (December 1st)
In the distant future, society is ruled by a Black ruling class, who rule over the lower classes as they etch out a meager living in fields or ruined cities. One such member of society is 18-year-old Avi Jore, who has a promising future following her father as leader. But she's troubled by the treatment of the less fortunate, and when a mixed-race enslaved girl named Saige Wilde saves her from an assassination attempt, their futures become entwined, and promises to kick off a revolution.
Publishers Weekly says "By reversing contemporary racial hierarchies, Vernon reflects on how race is a socially constructed concept that can have violent consequences. While there's the potential to misconstrue the novel as being against reparations, the idea that a society built on ideologies of racial purity and superiority is doomed to implode rings out stronger.
This book of essays takes a look at the science fiction field across mediums to look at how the community has explored and envisioned the future, particularly looking at corporations, governmental surveillance, and prison technologies. Authors include Canavan, Fabio Fernandes, Karen Lord, Farah Mendlesohn, Kim Stanley Robinson, Bogi Takács, and more.
---
That's all for today: thanks for reading. I should have a regular roundup tomorrow with a reported piece featuring some thoughts from some authors about the state of social media.
Andrew