Here's the August 2021 sci-fi and fantasy book list!
A roundup of all of the best-looking science fiction, fantasy, and horror novels hitting shelves this month.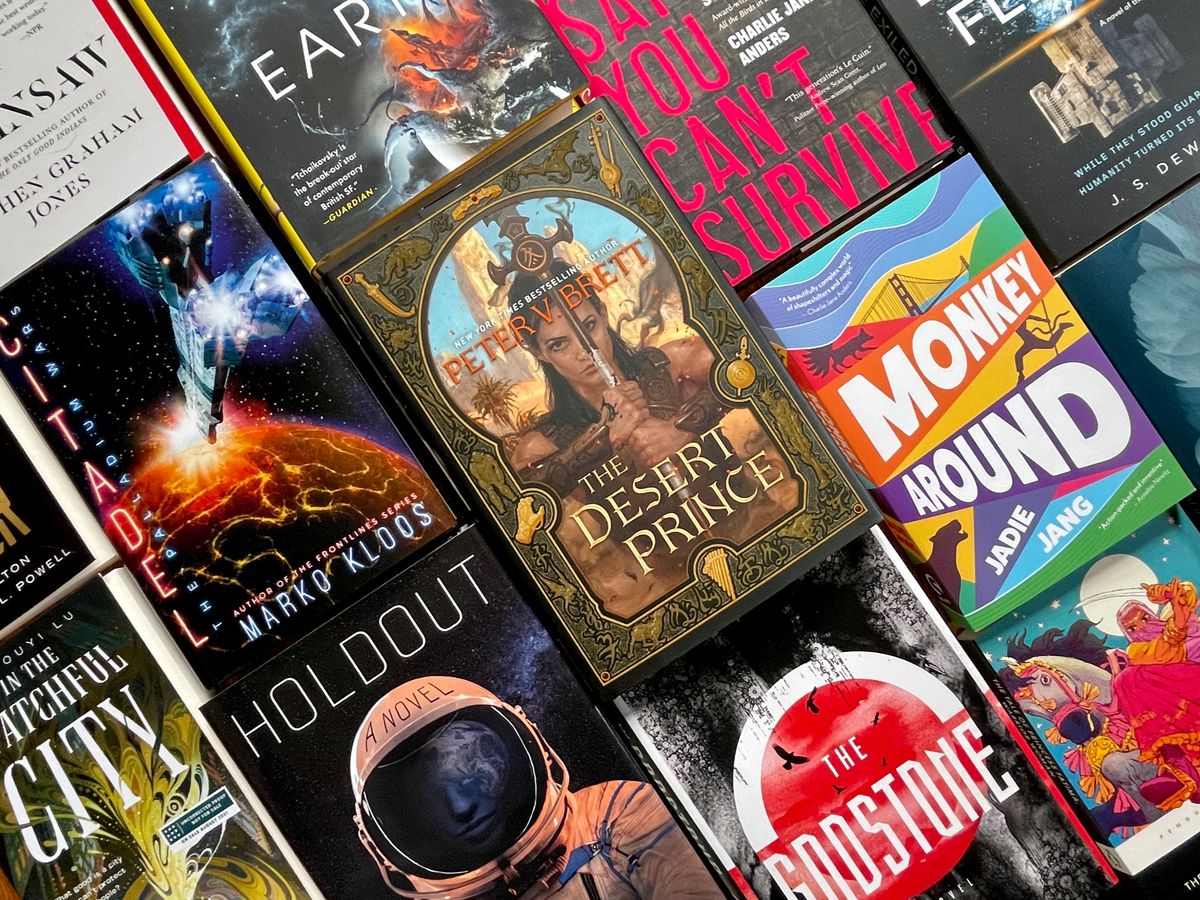 Another month down for 2021. I hope that you're remaining safe.
I've gotten good at freeing up space in my bookshelves over the last couple of years. My workspace is bordered by a nice, floor-to-ceiling set of shelves, and over the years, it's been in a constant state of overflowing. I've always felt like it's a bit of a living collection of the books that I appreciate and love, but one that also feels like it's a part of me — a representation of my interests and reading habits.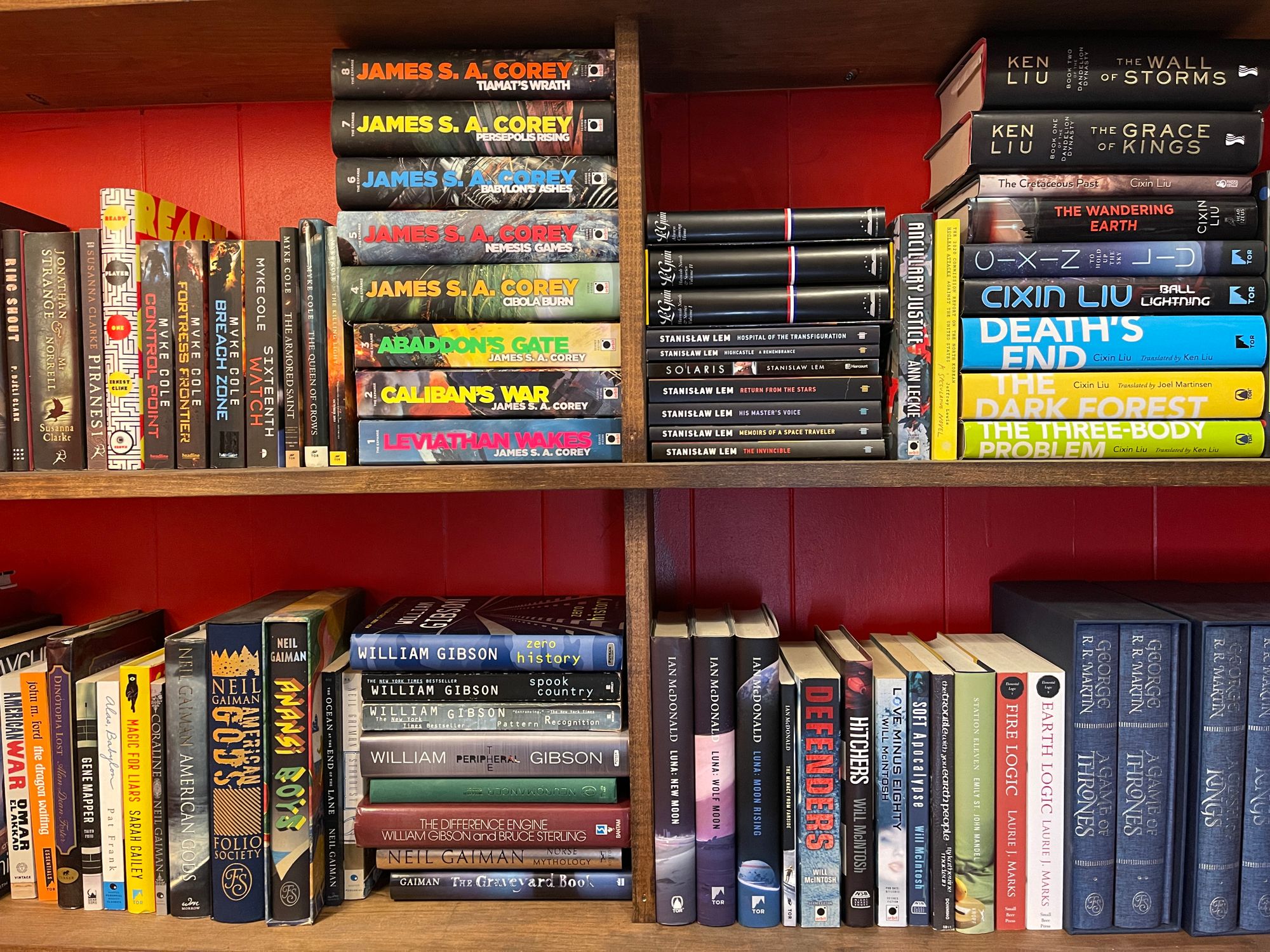 I came across a picture somewhere the other night, one where its curator sorted them with stacks of books piled horizontally and vertically. I've spent the last day doing some reshuffling to see how that would work, and it's definitely freed up some space, and made it look a bit more interesting, visually. Mind, there's still not much more space, but that's sort of the way it is, isn't it?
---
If you find that you've enjoyed this list, please consider subscribing as a free or paid member (details on how to do that here). I write a regular roundup of the week's SF/F news each Friday, and paid members get some additional issues about the bigger stories about the genre throughout the week.
Here are a couple of issues that have gone out recently:
---
Here are 22 new SF/F books hitting stores this month that you should check out. As always, any purchases made via Bookshop links might result in a small commission to Transfer Orbit. You can find a full list on Bookshop here.
---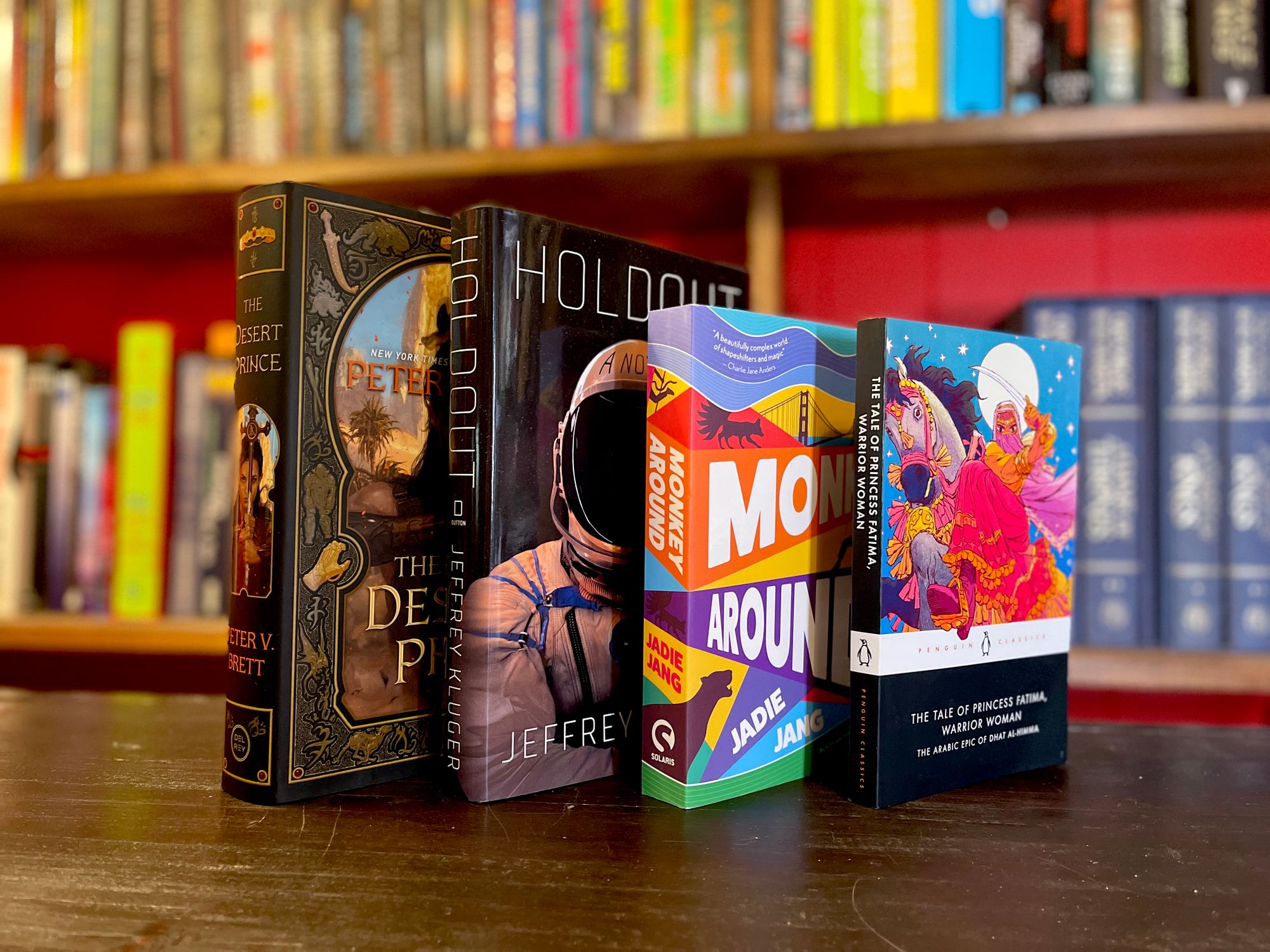 August 3rd
The Desert Prince by Peter V. Brett
Peter V. Brett is best known for his Demon Cycle, a five-book series that kicked off with The Warded Man. With The Desert Prince, he kicks off a new series set in the same world, featuring a new cast of characters.
Set fifteen years after that first series, the demon war has come to an end. Brett follows Princess Olive Paper and Darin Bales, who've grown up in this new, peaceful era, and who are each resisting the legacies and expectations that they have to live up to. When they step over the Wards protecting their home, they discover that the demons that plagued humanity haven't been vanquished, but are still out there, and in doing so, find a new direction for their lives.
Read an excerpt.
Monkey Around by Jadie Jang
Jadie Jang takes us to a stranger San Francisco in her debut novel, a take on the Chinese folk legend of the Monkey King. The story follows a were-monkey named Maya McQueen as she tries to figure out her range of powers while also working as an activist and barista in the city. The Bay Area is undergoing some turmoil amidst the Occupy Wall Street movement and a series of disappearances and murders in the supernatural world, and Maya's pulled into the trouble and soon discovers that the city is looking for a sort of avatar to keep itself together.
Publishers Weekly says that the "coexistence of a plethora of were-creatures makes for a delightful backdrop to Maya's adventures. Fans of new takes on folklore will want to check this out."
Read an excerpt.
Death Fugue by Sheng Keyi (translated by Shelly Bryant)
Chinese author Sheng Keyi's novel Death Fugue gets a new edition from Restless Books. Originally published in 2014, the book has never been published in China because of Keyi's allusions to the massacre at Tiananmen Square.
The story opens when a nine-story tall tower of crap appears in the middle of Beiping, the capital of Dayang. It's quickly removed, and while the government issues orders to people to forget what they've seen, unrest begins to spread to become an uprising, which include a poet named Mengliu and his girlfriend, Qizi. Qizi is captured by the authorities in the ensuing crackdown, and years later, Mengliu is still searching for her. When he ends up in a place known as Swan Valley, he discovers an idyllic, perfect utopia, one with some dark secrets hidden right under the surface.
Holdout by Jeffrey Kluger
You might not recognize the name Jeffrey Kluger, but you've probably seen his writing: he co-wrote Lost Moon: The Perilous Voyage of Apollo 13 (which became the movie Apollo 13), and he's written extensively about science for places like Discover, The New York Times, and Time Magazine.  
With Holdout, he's turning his attention to science fiction: after an accident on the International Space Station, astronaut Walli Beckwith puts her career in jeopardy when she refuses to evacuate from the station after a collision with a resupply vessel. She remains onboard and uses the world's focus on her situation to draw attention to a campaign that Brazil is waging against its Amazonian indigenous tribes, trying to force the US President to do more to stop the genocide.
Publishers Weekly says that "Kluger smoothly covers the technical aspects of life on the ISS and neatly contrasts international cooperation in space with conflict back on Earth."
Read an excerpt.
The Godstone by Violette Malan
Violette Malan kicks off a new series with The Godstone, which follows a Practitioner named Fenra Lowens to work as a healer. When one of her patients, a cabinetmaker named Arlyn Albainil receives word that his cousin Xandra has died and that his will stipulates that his heirs should open his vault, she's suspicious: it contains a dangerous artifact that she knows he wouldn't want out in the world.
When they make it to the city, Fenra learns the truth: Arlyn is actually a legendary Practitioner named Xandra Albainil who had created the Godstone, an artifact that could unmake the world, and that while it's been locked away, Xandra's health has been slipping, and he needs Fenra to help him. Kirkus Reviews says that "well-drawn characters and a quest that's eventually revealed to be as epic as they come add depth to the story, but the standout here is this strange, highly original world."
Read an excerpt.
The Tale of Princess Fatima, Warrior Woman: The Arabic Epic of Dhat al-Himma edited by Melanie Magidow
Penguin Classics aren't always places to find neat fantasy reads, but one of the next books from the series is a newly-translated Arabic legend — the only one named for a woman. Princess Fatima/Dhat al-Himma was given away at birth, only to become a fearsome warrior, leading armies and contending with a brutal cousin. It looks like a really intriguing read.
Read an excerpt.
Starlight Enclave by R.A. Salvatore
After years away, R.A. Salvatore returns to the world of Dungeons & Dragons's Forgotten Realms for a new adventure with his iconic dark elf character Drizzt Do'Urden. A fragile peace in the world has some concerned: the drow mercenary Jarlaxle prepares for a potential war by going on a quest to track down a legendary sword known as "Cutter", going north to seek out the weapon's last wielder.
At the same time, Drizzt has gone on a spiritual journey as he takes his daughter Brienne to the Monastery of the Yellow Rose, and might end changing the direction of the Realms forever. Kirkus Reviews notes that the story is loaded with action and "deep philosophical exploration," and that the story "packs a thematic wallop that is both timely and timeless."
Read an excerpt.
Nolyn by Michael J. Sullivan
Michael J. Sullivan Kickstarted his latest fantasy novel back in February, the start to a new series, The Rise and Fall, and which kicks off nearly 900 years after a massive war and the founding of an empire. (Sullivan says that it's set after the events of Legends of the First Empire and nearly 1,000 years before his Riyria series).
The imperial heir has been exiled for most of that time, and is suspicious when he's suddenly reassigned to the front lines of the ongoing Goblin War. While he's undertaking a mission to rescue a beleaguered outpost, he realizes that he's in the midst of a trap, one designed to make it look as though he's been killed in the line of duty.
Read an excerpt.
Shards of Earth by Adrian Tchaikovsky
I'm a huge fan of Adrian Tchaikovsky's Children books: Children of Time and Children of Ruin, and his latest foray into space opera looks just as interesting. Shards of Earth kicks off a new series after Earth is destroyed by a sentient being called the Architects. Humanity is flung out into space and created units of super-soldiers capable of communicating with their destroyers. Idris was one such soldier, and after making contact with the Architects, they vanished, realizing that humans were sentient.
Now obsolete, Idris makes his way through the universe as part of the crew of a salvage ship named the Vulture God. While out in space, they discover signs of the Architects, kicking off a race to try and figure out what the aliens motives and next moves might be. Publishers Weekly gave the book a starred review and says that the book is "space opera at its best," while New Scientist says that it's a "rip-roaring space opera featuring starship battles, genetically enhanced superhumans and multiple weird and wonderful aliens."
Read and listen to an excerpt.
---
August 10th
Dark Waters by Katherine Arden
I've long been a fan of Katherine Arden's books, like her Winternight trilogy, and her Middle Grade horror stories, Small Spaces and Dead Voices. Her latest is Dark Waters, in which she picks up the story of Ollie, Coco, and Brian after their last adventure confronting the smiling man. He's promised to return, and while they're on a trip to Lake Champlain and accidentally get stranded on an island, they find themselves coming up against their old foe, and have to work together to escape.
Kirkus Reviews says that it's "another deliciously hair-raising entry in a series that continues to make a huge splash."
Read an excerpt.
Spirits Abroad by Zen Cho
Small Beer Press reissues Zen Cho's 2014 collection Spirits Abroad with an updated table of contents with an additional nine stories (bringing the total up to 19), including her Hugo Award-winning story "If at First You Don't Succeed, Try, Try Again", which came out in 2018 on The Barnes & Noble Sci-Fi & Fantasy Blog. (RIP).  
Citadel by Marko Kloos
Marko Kloos wraps up his Palladium Wars trilogy with Citadel. He kicked off the series back in 2019 with Aftershocks, and with Ballistic in 2020, set in a planetary system that's been trying to recover from a devastating war as the various planets of the Gaia system fought for control over the supply of Palladium. One officer, Aden Jansen was on the losing side, and has been trying to move on, only to discover that there are still huge cracks cracks in the system's civilization that could lead to another brutal war.
Now, a group of nationalists have been vying for control, and they launched a nuclear missile in the largest attack yet as tensions ramp up. One military leader, Dunstan Park, has been given command of an experimental ship that could help steer the direction of the war — provided it doesn't fall into the wrong hands, and as attacks begin to surge, Aden is reluctantly brought back into the fight.
Read an excerpt.
---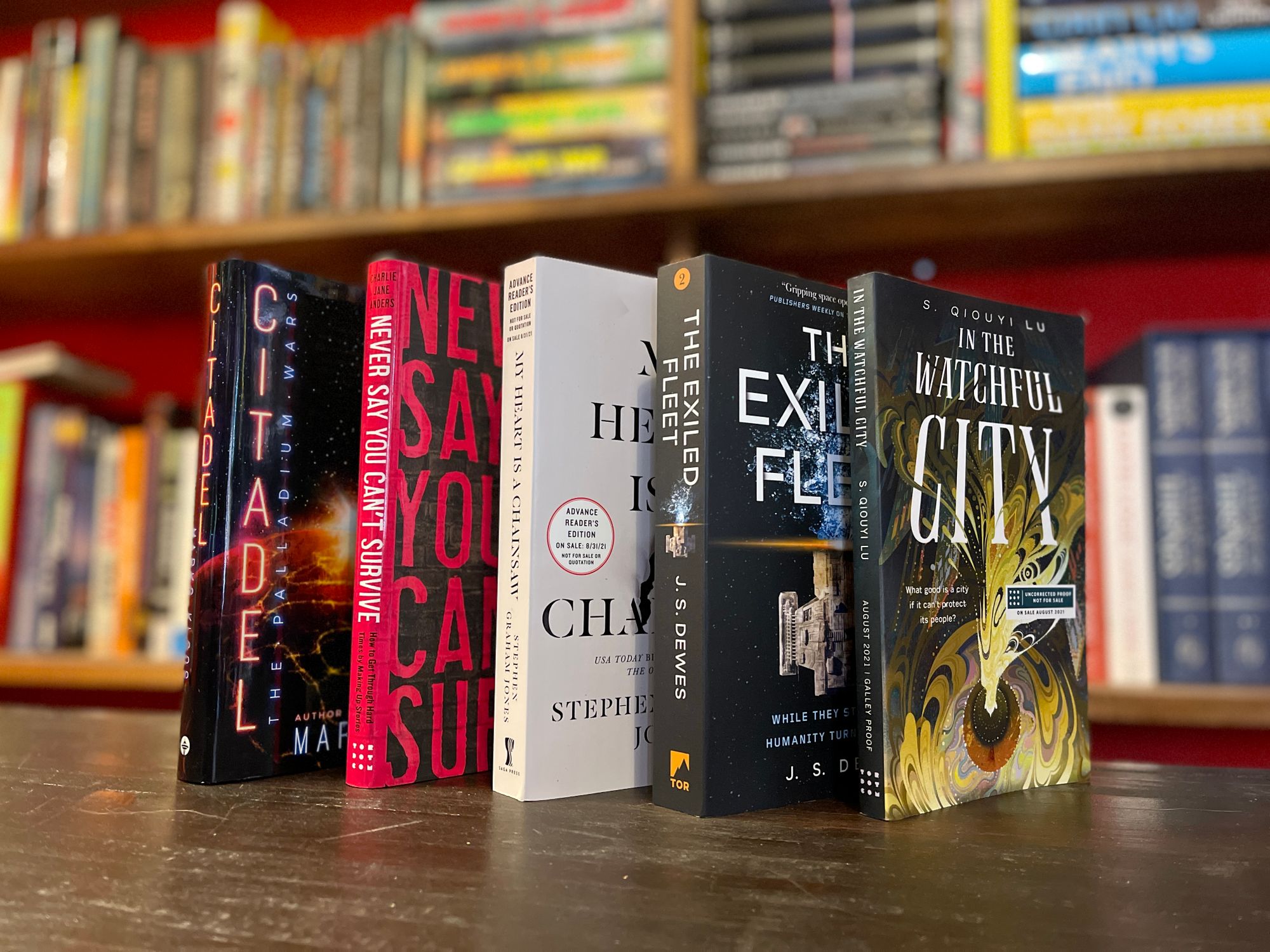 August 17th
Never Say You Can't Survive by Charlie Jane Anders
Over the last year, Charlie Jane Anders has been writing a column on writing advice for Tor.com, which she's now turned into a book, Never Say You Can't Survive, which covers all sorts of things from dealing with Imposter Syndrome, trying out story ideas, building scenes, and quite a bit more.
For years, Anders (who I used to work with at io9) wrote some incredible pieces about writing for io9, which I always hoped she'd turn into a book. This looks like it'll be just the thing that I've been looking for.
The Exiled Fleet by J.S. Dewes
Earlier this year, J.S. Dewes published The Last Watch, about the Sentinels — the exiled crews of the Divide — a line of warships at the edge of space, watching as the universe has begun to collapse beyond the line. In this new sequel, those who survived are struggling to survive six month slater while Cavalon and Mesa have been working to get their ship up and running, and face some new challenges along the way.
Publisher's Weekly gave the book a starred review, saying that "Dewes expertly weaves character backstories into the action as Cavalon uncovers a disturbing secret about his childhood and Jackin's past proves key to saving the Sentinels—at a terrible cost.
Read an excerpt.
Velvet Was The Night by Silvia Moreno-Garcia
I was a big fan of Silvia Moreno-Garcia's novel Mexican Gothic, and I've been waiting to see what she'd be up to next. That book is a noir thriller set in 1970s Mexico. It follows a woman named Maite who escapes the violence and political unrest in Mexico City through pulp magazines. When her neighbor Leonora goes missing, Maite takes it upon herself to try and find out what happened, discovering that Leonora was something of a political dissident.
Maite isn't the only one after Leonora: Elvis, a member of a state-sanctioned gang that's been tapped to harass and suppress members of the left-leaning protest movements. The two have some things in common, and as they deal with new, unseen threats, they find something of a kinship between them.
Kirkus Reviews gave the book a starred review, calling it "a noir masterpiece," and that it "features memorable characters, taut pacing, an intricate plot, and antiheroes you can't help but root for."  
Read an excerpt.
---
August 24th
Twenty-Five to Life by R.W.W. Greene
60 years from now, society has begun to collapse, and the US has begun to change some of its laws to bump up the age at which people are recognized as adults. As fleet of spaceships depart for Proxima Centauri in an attempt to try and save humanity, those left behind have to figure out how to survive.
Julie Riley isn't old enough to leave her parents care, and as they move from the suburbs and into the city, she flees, joining a group of drifters and outcasts who make their way across the US to escape the authorities.
Read an excerpt.
Light Chaser by Peter F. Hamilton and Gareth L. Powell
In this collaboration from Peter F. Hamilton and Gareth L. Powell, Amahle is a Light Chaser, a genetically-enhanced individual who commands the Mnemosyne, an interstellar ship that travels the galaxy, working to hand out memory collars that records the memories of those who wear them. She soon discovers a message from someone that she met a thousand years ago, one with a warning of impending doom, and begins to work to try and track down a way to save herself, and the worlds of The Domain.
Publishers Weekly says "the authors' engagement with both hypothetical science and reincarnation will hold readers' interest, and the worldbuilding hints at a vast, fascinating universe."
The Second Rebel by Linden A. Lewis
Linden A Lewis continues the story that she started in The First Sister, in which First Sister, a priestess in an order that aids soldiers fighting in an interstellar, is ordered to spy on her new captain, Saito Ren. Now the First Sister of Ceres, Astrid has reclaimed her name, and has vowed to bring down her sisterhood, while a criminal on a space station, Hiro val Akira is working to try and recruit a new ally to the growing rebellion against the Sisterhood.  
Publishers Weekly notes that the book features "fascinating morally gray characters and sensitive representations of body dysphoria and disability, plus high stakes and themes of rebellion, sacrifice, and the greater good, this is a solid pick for space opera fans."
---
August 27th
Deer Kings by @s
In 1989, a group of friends went out and created their own saint in an attempt to try and evade a deranged drug dealer, and soon thereafter, one member of the group, Gary Sheldon, fled his hometown of Kingston, Oregon, vowing never to return. But when his wife lands a job as the town's high school principal, he reluctantly returns.
As he reunites with his old friends, his past begins to creep back — there are strange encounters and mutilated animals in the woods, and Gary and his friends soon realize that the saint that they'd created never left, and someone is making sacrifices to it.
---
August 31st
My Heart Is a Chainsaw by Stephen Graham Jones
Jade Daniels wants nothing more than to escape her hometown of Proofrock, Idaho and her abusive parents. The half-Indian teenager found an escape from her troubles through a love of slasher horror films. When a series of strange deaths begin to crop up in the new suburbs of Proofrock, she realizes that the deaths bear the hallmarks of the slasher movies that she loves, and that she has to do something to stop the bloodbath. Dismissed by everyone she knows, she decides to take matters into her own hands.
I loved Jones' The Only Good Indians when I read it last year, and this new book looks like a fantastic take on the tropes of horror films. Publishers Weekly gave the book a starred review, saying that "Jones weaves an astonishing amount of slasher film lore into his novel, punctuating the text with short term papers written by Jade on the history and functions of the genre."
In the Watchful City by S. Qiouyi Lu
In the city of Ora, Anima is an extrasensory human whose job it is to watch and protect ær fellow citizens by way of an organic network called the Gleaming. When a stranger named Vessel enters Ora with trinkets collected from around the world, Anima begins to see other places outside of the city, opening æ eyes to the possibilities of the wider world, and sowing doubt about ær own existence and that of Ora's intentions.
Publishers Weekly gave the book a starred review, saying that "this masterful work positions Lu among the vanguard of contemporary futurism and speculative fiction."
Star Wars The High Republic: Tempest Runner by Cavan Scott
A new installment of the High Republic series comes in a slightly new form: a full-cast audio drama. This adventure follows a Nihil Tempest Runner named Lourna Dee (she's appeared in Light of the Jedi, The Rising Storm, and Out of the Shadows), who's on the run from the Jedi and is soon captured. But the Jedi believe that she's just a regular Nihil, and as she begins to figure out how to escape, she begins to find new allies, and might end up on the path to some sort of redemption.
---
Looking for more new books? You can check out prior book lists here.
As always, thanks for reading. Let me know what you've been reading, what catches your eye on this list, and so forth.
Andrew