October's must-read SF/F books
23 new books to check out this month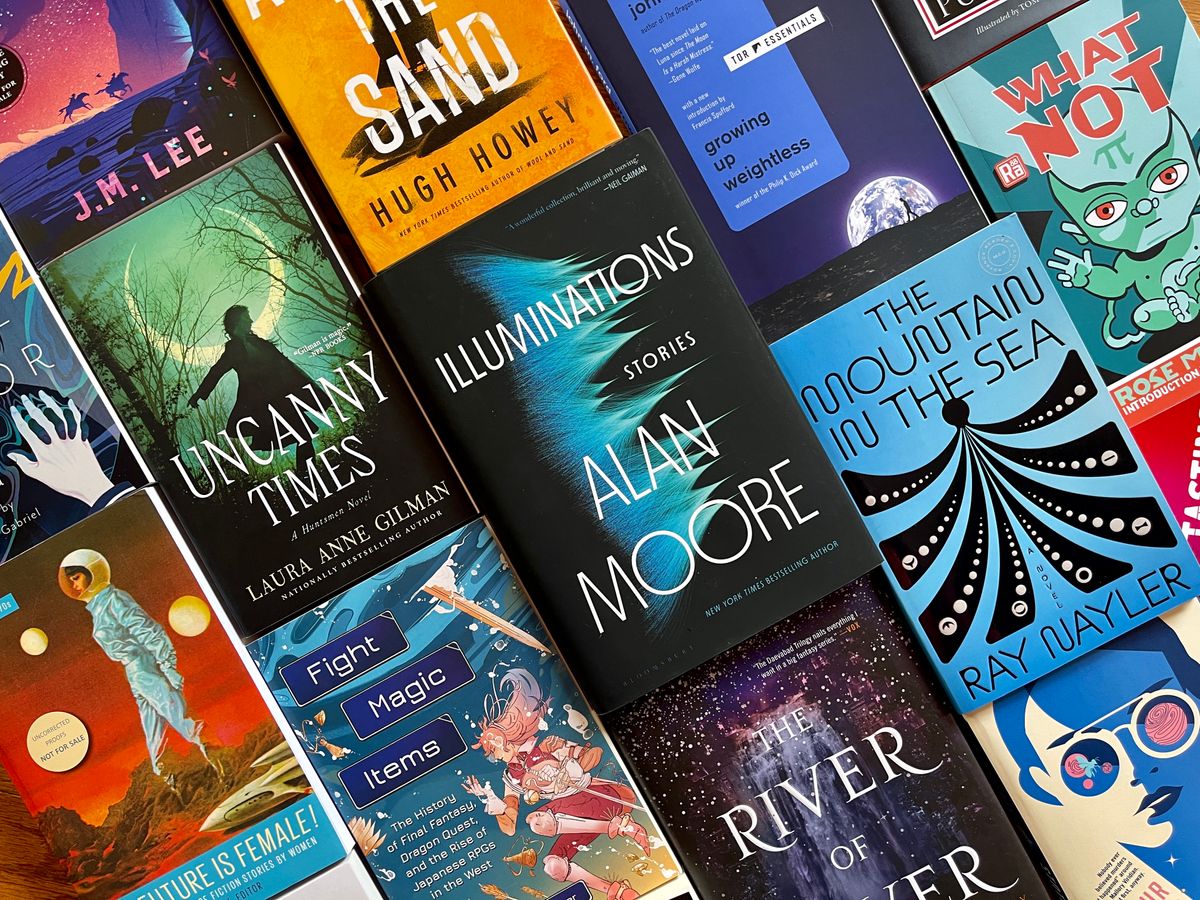 It's hard to believe that it's already October. It's a little like someone threw a switch, because we went from a hot, dry summer to a chilly, vibrant autumn here in Vermont. I've been looking forward to it: the chill is a good excuse to curl up on the couch with a pot of tea and a stack of books (and we just got a very nice, comfortable couch.)
October is a packed month: here are 23 new SF/F/H books hitting stores that you should check out. If you missed the lists for September, you can take a look at them here and here, and as always, you take a look at prior lists here. And of course: my own book is now out in stores: Cosplay: A History!
Usual disclaimers: this newsletter is a Bookshop.org affiliate, and if you make a purchase through a link there, I might get a small commission.
If you happen to find a book on this list that you enjoy, please consider signing up as a supporting subscriber to Transfer Orbit. Your support helps keep this newsletter going in many ways, and we've got a good stack of in-depth posts coming up in the coming month. Recent posts include a retrospective on the TV series Firefly, how Andor is different from any other Star Wars project out there and why that's needed, the value of human narrators over computer-generated ones, and an essay about post apocalypses.
You can sign up here:
---
Fantasy
Olivie Blake (the pen name for Alexene Farol Follmuth) blew up on Tiktok's BookTok scene with her novel The Atlas Six, about a group of novice magicians who've been accepted into the ranks of the Alexandrian Society, a secret magical order. Their initiation was dangerous and they'd have to fight for their place. Five succeeded, and now have two paths ahead of them, and they all will have to choose a side, a choice that will pit them against one another.
LibraryJournal says that "Blake brilliantly uses fantasy trappings, and plenty of cliff hangers and twists, to tell a story that leaves readers questioning everything they believe to be true in the world she has created."
S. A. Chakraborty earned considerable acclaim for her Daevabad trilogy (The City of Brass, The Kingdom of Copper, and The Empire of Gold), a Middle Eastern-set fantasy epic that traced the conflict between djinn of the supernatural world, and our own.
Chakraborty is back with a new volume of stories that accompanies the trilogy, one that expands on some of the characters, cut scenes from the novels, as well as a special alternate finale for The Empire of Gold, which brings the series to a cloes in a new way. Publishers Weekly says that the book shouldn't be an entry point for anyone just coming to the series, but "it will be a treat for series devotees."
Tordotcom republishes Andrea Hairston's novel Will Do Magic for Small Change, which kicks off in 1980s Philadelphia when Cinnamon Jones discovers that her brother Sekou has overdosed. Before he died, he gave her a story, The Chronicles of the Great Wanderer, about a Dahomean warrior and an alien who performed at the 1893 World's Fair in Chicago. As it turns out, he had an important role: keeping the story alive in memory, because it's the remembering that keeps that alien alive. As she sets out to reconstruct the Wanderer, she brings together two friends who help her.
Publishers Weekly gave the book a starred review (back in 2016), and says that "the entire work is filled with magic, celebrating West Africans, Native Americans, art, and love that transcends simple binary genders. Hairston's novel is a completely original and stunning work."
In the 1800s, two teenagers join the Pony Express as a way to find something in their lives, both hiding something to fit in. Jessamine Murphy sees it as a way to find her father in California, and disguises herself as a boy, while Ben Foley is trying to get away from something in his past, and passes as white to join.
The pair jump at an assignment to make deliveries along an unusual route, the Nightland Express. It's only once they embark that they realize that there's something off about it: their horses move faster than they thought possible, and there are inhuman creatures along the route that follows the border between the mortal world and a magical one.  
Illuminations by Alan Moore (October 11th)
Alan Moore is best known for Watchmen and his other work as a comics writer, but he's also produced a number of shorter prose works over the years. He's collected a number of those stories into a single volume, Illuminations, chock full of stories about the paranormal, magical, and one big novella about the history of superheroes.
Publishers Weekly gave the book a starred review, saying that Moore further burnishes his reputation [with this collection] and that "the superhero genre's loss is fantastic fiction's gain."
The Collectors by Philip Pullman (September 20th)
I've long been a fan of Philip Pullman's His Dark Materials series, and while we wait for the next (and presumably final) installment of The Book of Dust, he's got a new, shorter tale called The Collectors. This short story delves into the origins of one of the series' main antagonists, Mrs. Coulter, going all the way back to her childhood.
Michael A. Stackpole has a new tie-in novel coming, this time for the video game series Dark Souls. In it, an unnamed king awakes from the dead and ventures out into the world, where he discovers that the kingdom that it once knew has been destroyed and is now patrolled by Hollows. To restore the kingdom, the King must work with a youth named Balarion and other surviving champions to embark on a quest to set the world right again.
Lonely Castle in the Mirror by Mizuki Tsujimura, translated by Philip Gabriel (October 18th)
A teenager named Kokoro is having trouble in school: she's being bullied and has locked herself away in her room to hide from the world. While there, she discovers that her mirror has begun shining, and she's pulled from her world into a fantastical one, along with six other students.
In that fantastical castle, they learn that there is a room that can grant someone a single wish, but there are some harsh consequences: they have to leave the castle by 5:00, or they'll be punished. Faced with that timeline, the seven children have to unlock the castle's clues and learn a bit more about one another and their situations before time runs out.
Nghi Vo returns to her fantasy Singing Hills cycle (which includes The Empress of Salt and Fortune and When the Tiger Came Down the Mountain) with a new installment, Into the Riverlands, in which Wandering cleric Chih visits the Riverlands to transcribe the stories about the region's near-immortal martial artists. While on the road, they discover fellow travelers and a feud that pulls them into the region's troubles far more than they ever imagined.
Publishers Weekly gave the book a starred review, saying that "Vo expertly weaves myths and histories of this fantastical land throughout [and that] the result is a pitch-perfect series installment."
---
Horror
Uncanny Times by Laura Anne Gilman (October 18th)
In 1913, it's a time of change and modernity for America, and scratching around the edges of the world are supernatural things from the past that technology has trampled over in its march forward.
A pair of sibling monster hunters, Rosemary and Aaron Harker, arrive in Brunson New York after they learn that one of their cousins has been killed by an Uncanny (these supernatural creatures from folklore). As they hunt for the culprit, things seem to get more complicated: the local police believe that they're union agitators, while an Uncanny that they discover asks them to help destroy a monster that's taking over the town — something that they've never encountered before.
Publishers Weekly says that "Gilman's evocative descriptions blend history with rich supernatural lore, while finely interwoven intrigues promise great things to come from this gaslamp fantasy series."
Last year, Sloane Leon and Cassie Hart launched a Kickstarter project called Death in the Mouth, a horror anthology that featured BIPOC authors and stories. The book quickly funded, and it looks like a really intriguing read with some excellent writers in its table of contents: Karin Lowachee, Rivers Solomon, R.S.A. Garcia, and more. Each story also comes with art, which should make this anthology really stand out.
---
Science Fiction
This new anthology from MITeen Press takes a gander at what the near future might look like through the eyes of ten well-known YA authors, who'll imagine what the technological advances of today mean for tomorrow. Authors here include E.C. Myers, Elizabeth Bear, and William Alexander, among others.  
Kirkus Reviews gave the book a starred review, saying it's full of "engaging, thoughtful, beautifully written entries about identity and agency, all unfolding within the bounds of real science."
I've got a growing stack of books from John M. Ford on my to-read list – The Dragon Waiting and The Scholars of Night – ever since I first came across him in an excellent piece from Slate a couple of years ago.
This one looks to be just as interesting: a story of a young man who grows up on an independent, oppressive moon colony, who eventually slips out with some friends for something they've longed for: an adventure. This one's going on the stack.
Back in 2014, Hugh Howey published a new science fiction novel, Sand, about a civilization that was buried under an insurmountable desert. Four siblings relied on their father, a sand-diver, who brought back valuable objects that helped them survive, and he's since gone missing.
In this standalone sequel, Conner, Rob, Palmer and Violet are trying to rebuild their lives, facing incredible dangers as they do so, while across No Man's Land, in the city of Agyl, a woman name Anya makes a stunning discovery about her father's work when a stranger brings a nuclear bomb to her home and destroys it.
Publishers Weekly says that "Well-paced writing and myriad intertwined narratives build momentum as Anya's and her father's quest for vengeance places them in conflict with the sand-divers. Marrying a propulsive plot with fascinating worldbuilding, this post apocalyptic epic proves well worth the wait."
At the edge of known space, a derelict spacecraft has been floating, abandoned for more than a millennium. It contains a secret to immortality that could transform humanity, but it's a dangerous thing, filled with traps.
When a linguist named Sean Wren is arrested and tried, he's given a choice: he can go to life in prison, join the military, or be part of a mission to salvage the ship, days before it's set to be destroyed by a supernova. He and his team aren't the only ones: an alien race known as the Ministers, who've ruled humanity for hundreds of years, is also after the ship, as well as the last free human civilization, The Republic. While on the ship, Sean makes some horrifying discoveries about why the ship has been abandoned, and why what happened in its final days.
The Spare Man by Mary Robinette Kowal (October 11th)
Mary Robinette Kowal takes a short break from her Lady Astronaut series for a standalone thriller: The Spare Man. In it, we follow an inventor and heiress named Tesla Crane who's on her honeymoon on a space liner with her new husband Shal Steward, a retired detective, and her therapy dog, Gimlet.
They're enjoying her trip in relative anonymity when a fellow passenger is murdered mid-flight. As Tesla and Shal begin to investigate on their own, Shal becomes the prime suspect, prompting the two to redouble their efforts to find the real killer. Publishers Weekly says that Kowal's "nuanced portrayal of Tesla's disabilities and the complexities of the technology that assists her to navigate them is particularly welcome."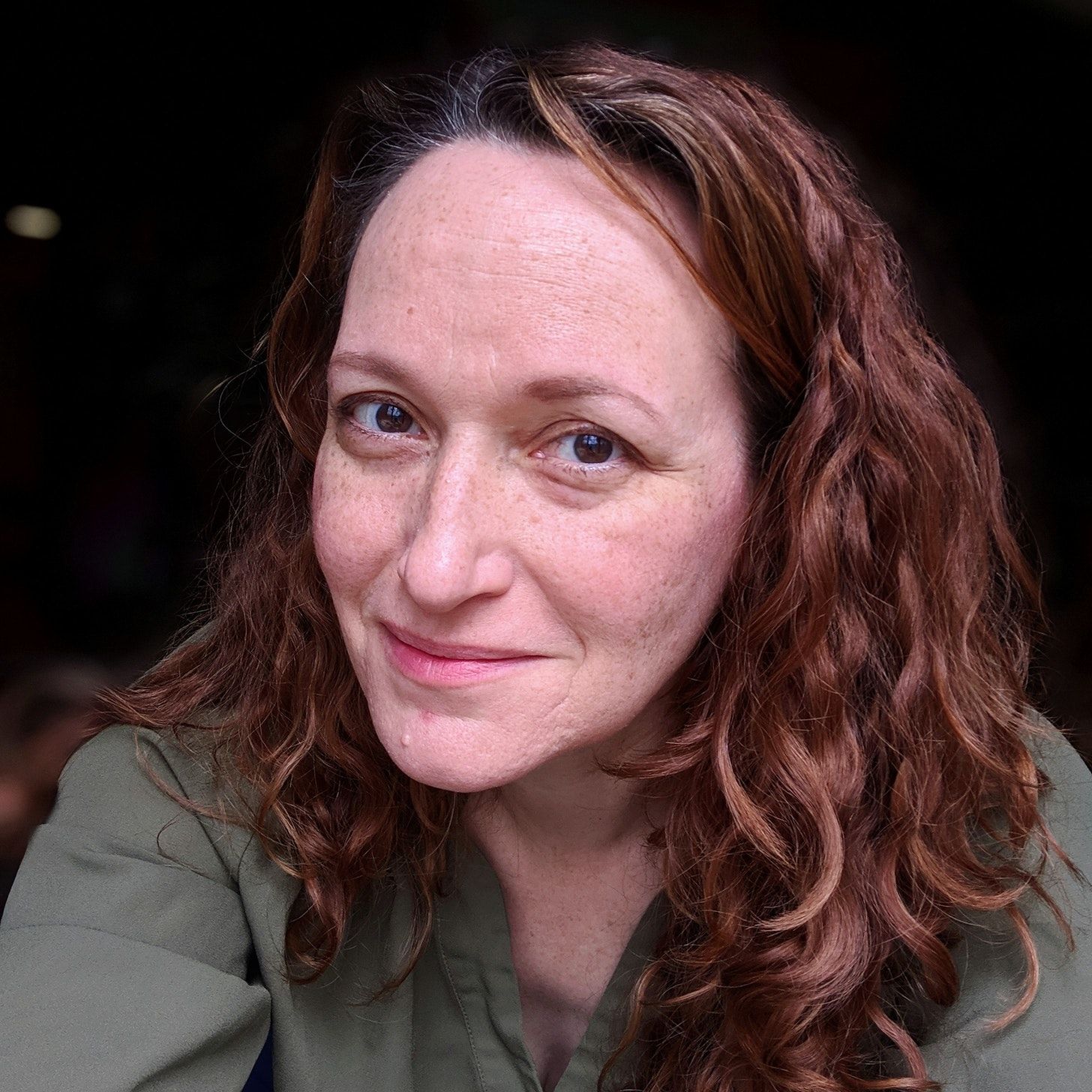 Mallory Viridian has long found herself solving murders throughout her life, something that's good if you're a detective, but a problem when you're just an amateur, and something that's often labeled her a suspect. She decides to leave Earth for a more peaceful existence on an alien, sentient space station, hoping that she'll get some reprieve from her particular talents.
But when more humans join her on the station, the deaths begin, and Mallory has to solve yet another murder. Library Journal gave the book a starred review, saying that Lafferty "creates a clever and suspenseful sci-fi mystery, with intriguing characters and attentive worldbuilding."
What Not by Rose Macaulay (October 4th)
The latest installment of MIT Press's Radium Age series is Rose Macaulay's 1918 novel What Not, with an introduction by Matthew De Abaitua. Set in a near-future England, a new government agency called the Ministry of Brains sets out to establish a selective breeding program in the country. It follows a woman named Kitty Grammont's efforts to help with the ministry's propaganda, and falls in love with the Minister for Brains, a partnership that could upend the entire government.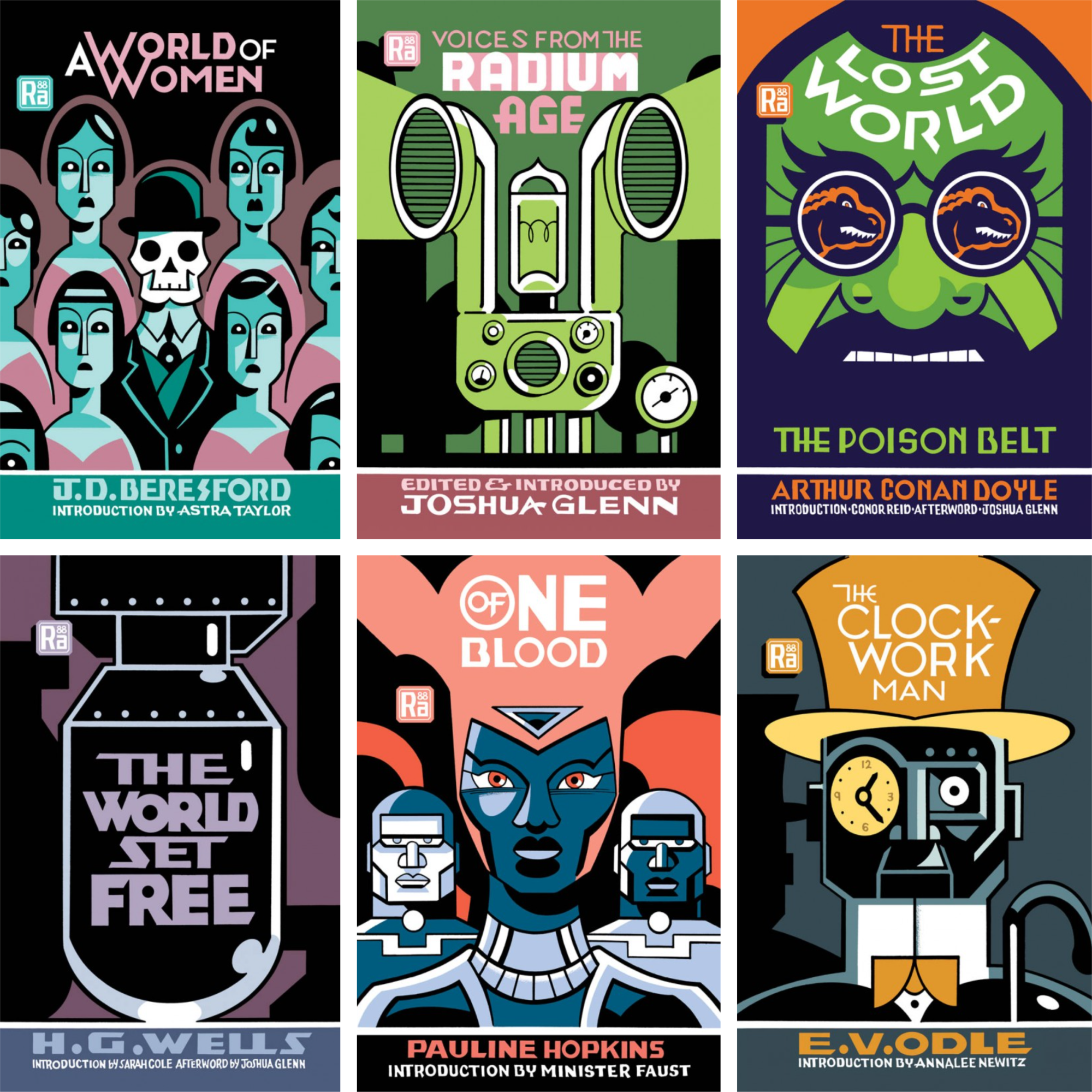 Set in the near future, humanity discovers that a species of octopus is sentient, and has developed its own language and culture, prompting Dr. Ha Nguyen to race to investigate. She joins a research team (which includes a veteran security agent and an android) run by a tech company called DIANIMA, which has isolated the island around which the octopus civilization has been discovered.
Researching these Octopi promises new discoveries into the nature of intelligence, and DIANIMA has its own plans for what they might do with that knowledge, all the while the Octopi might have their own thoughts about being studied.
Publishers Weekly gave the book a starred review, saying "Nayler provides a tightly focused framework for the challenges Nguyen faces as she attempts to decipher octopus language and culture, which will especially please science-minded readers" and that "as entertaining as it is intellectually rigorous, this taut exploration of human—and inhuman—consciousness is a knockout."
As a bonus, the narrator for the audiobook is the same as the one who narrated Cosplay: A History, Eunice Wong!
Titan by Mado Nozaki, translated by Evan Ward (October 18th)
In the distant future where an artificial intelligence known as Titan has made work obsolete, a psychologist named Seika Naisho receives a mysterious offer from a man named Narain Srivastava. She's asked to serve as a therapist for Titan itself, a job that could change the course of humanity.
The book was shortlisted for Japan's two big science fiction awards: the Seiun and the Nihon SF Taishō. It looks like a particularly interesting book that tackles some post-work futures.
Saga, Volume 10 by Brian K. Vaughn and Fiona Staples (October 5th)
I've been a big fan of Brian K. Vaughn and Fiona Staples' comic series Saga, and back in 2018, the pair announced that they were taking a break from the story. Last year, they revealed that they were returning, with the first issues dropping earlier this year in comic stores. That first batch of comics have now been collected up in the comic's 10th volume, kicking off the second half of the epic space opera series.
Library of America has produced some excellent anthologies over the years, and back in 2018, it released The Future is Female! edited by Lisa Yaszek, and served as a survey of science fiction's history from the pulp era of the 1920s all the way to the late 1960s, including stories from the likes of C.L. Moore, Judith Merril, Leigh Brackett, Joanna Russ, James Tiptree Jr., and Ursula K. Le Guin.
This second volume covers just the 1970s, and features stories from Rus, Vonda N. McIntyre, Le Guin, Marta Randall, Pamela Sargent, and Connie Willis. It looks like it'll be an essential text with some excellent stories. And, like many of the other Library Of America books, this one has some extensive notes about each author.
---
Nonfiction
Aidan's been a friend and colleague in the SF/F commentary sphere for a long time, and I've been looking forward to checking out his first book, a deep-dive history and look at the impact of JRPGs.
JRPGs aren't something I'm all that familiar with, but it's one of those histories that I really dig: a look at not only the beats of how something progressed, but what the impact was. I've started reading it, and I've been really impressed at what I've learned thus far.
---
That's all for today. As always, let me know what you think, what books caught your eye, and what you've been reading lately!
Andrew