Storytelling is an unrealized work tool
Storytelling is a powerful tool to evoke and impart emotions, and morality through fiction. But it's also a tool that organizations can and should utilize to effectively communicate their efforts.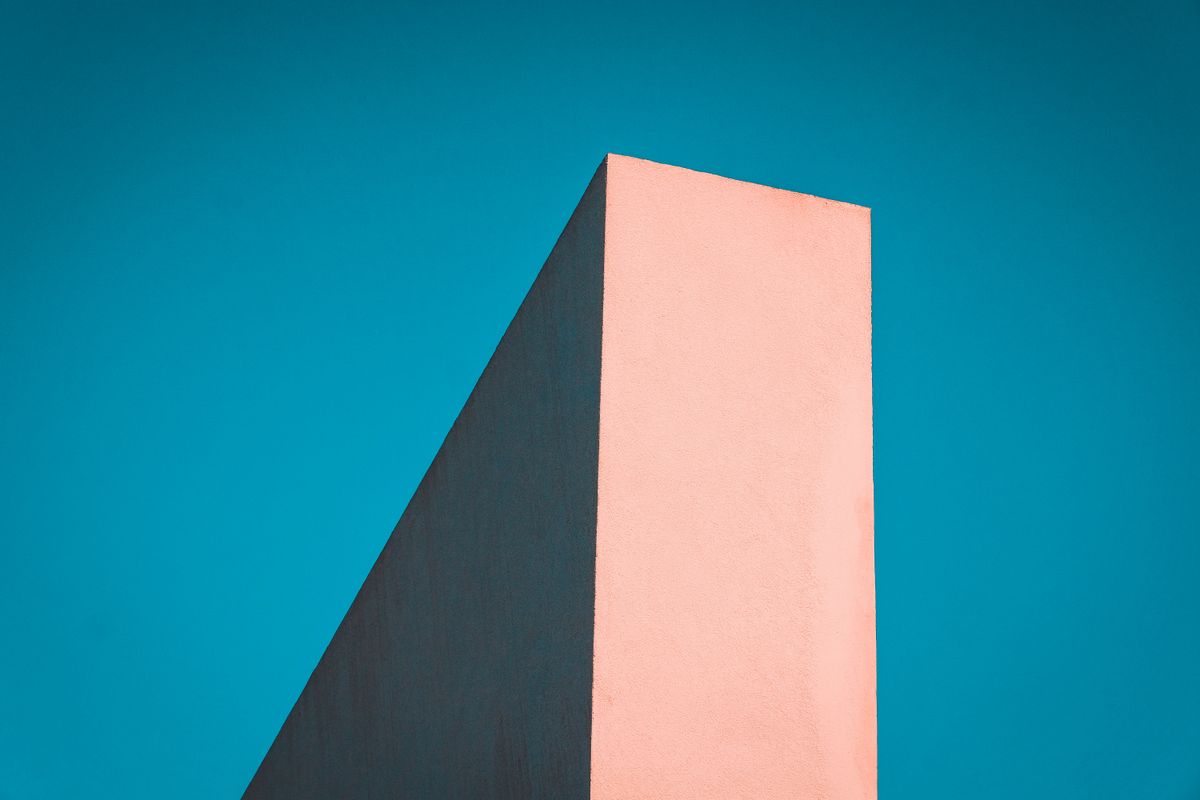 Happy Friday!
By the time you get this, I'll be... not here. I'm currently on the road to Pennsylvania for the weekend to visit family and to do a bit of work for Shapeshifters. I'm also hoping to get away from the computer for a couple of days to catch up on stuff.
This week, I've got a short bit of commentary about how science fiction as a narrative innovation can be used to help further science and technology, as well as a semi-annual subscription drive.
---
Subscription Drive
I've always seen this newsletter as a bit of a side project with the goal of punching above its weight, and I think it's been fairly successful at that in the last year. That is, of course, thanks in part to the folks who support this newsletter financially. There's a lot of work that goes into this newsletter: reading, writing, interviewing, transcribing, as well as some fixed overhead costs like Ghost's hosting, a subscription to automated transcriber Otter.ai, and things like that.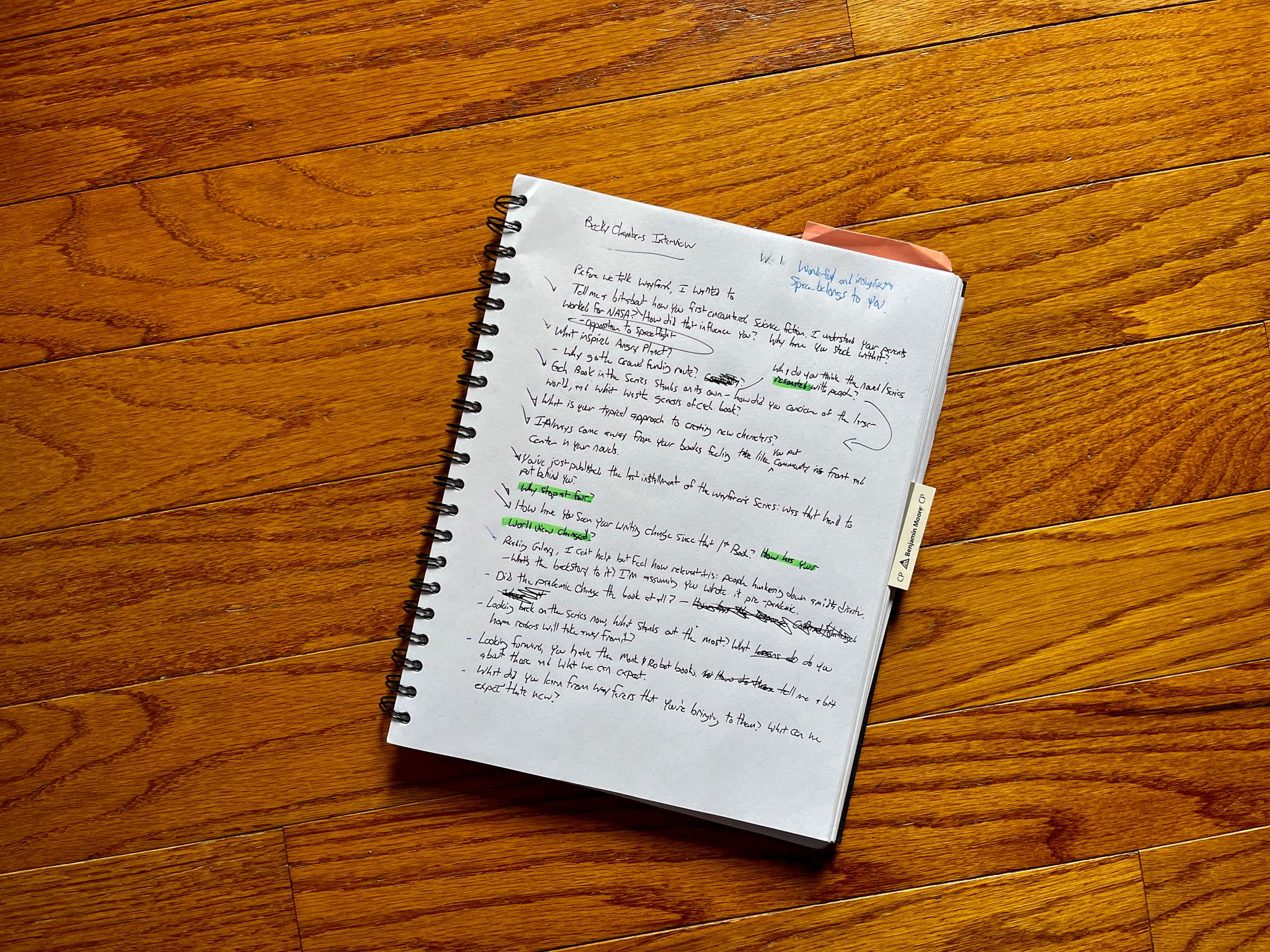 Here's what generally goes into this newsletter:
For the weekly news roundup, I start that on Friday with a shell document, and over the course of the week, I slowly fill it in, adding in links, writing up commentary, taking pictures, etc.
The monthly book list? I get that started immediately after the latest one goes out. July's list is already in the works — the month's stack of books that I have on hand are already sorted into piles. That's an involved process that has me hunting down books on places like Amazon, Barnes & Noble, pitches in my inbox, books I've bookmarked on Twitter, all of which goes into a spreadsheet that I keep continually updated. I select the books, flip through them, make selections, hound publicists for copies / details (you know who you are), all before writing down each summary.
Reviews: I'm always reading a half-dozen books, and once something breaks out, there's the time it takes to think over the right angle, re-read bits and pieces, and then writing up the whole thing.
Interviews take a bit of time. I'll reach out to the author or publicist, set up a time to chat, read stuff, come up with questions, actually sit down and interview said individual, then work on transcribing and editing the conversation.
That's just producing the free stuff. The work I produce for paid subscribers includes things like detailed reporting — I might interview or chat with 2-4 people for any given piece. It might involve doing some additional research, getting someone to come in and edit a piece, or just take a solid couple of hours of time to think over and write up.
The goal is to provide you with a better understanding of the world of science fiction, entertainment, and reading, and how it's important in your every day life. What types of things can stories impart on us? How does this book or television show or movie or podcast change how you think about the world? This newsletter has gotten some attention, too. It's garnered mentions in places like Vulture and The Washington Post, while Slate and Lifehacker have syndicated some of my posts. I've seen people call it "indispensable" and "essential" when it comes to understanding the world of science fiction and fantasy.
So, here's where I'd like to ask you to consider supporting Transfer Orbit. Subscribing helps me justify doing this. The world of freelancing was never lucrative in the first place, and a lot of budgets haven't recovered from COVID-19 cutbacks. Placing stuff is hard — editors don't always respond, angles get a shrug, etc. And, I don't regret moving from Substack to Ghost (all I have to do is take a peek at what folks like Glenn Greenwald or Matt Taibbi are up to and any doubts in my mind vanish), but it did kill the momentum I'd built up. I'm hoping to regain that this year.
So, for your subscription, you get some additional posts, and in the last couple of months, I've published posts about AT&T dumping WarnerMedia, the spate of ransomware attacks, how Timothy Zahn resurrected Star Wars, an in-depth report on the Turner Diaries and its impact on the white supremacist movement, and more.
I typically unlock a handful of these after a couple of months — here are a bunch that are now available from last year:
I don't particularly like paywalls, but I do feel it's important for writers to get some economic benefit and incentive for their work. And for those subscribers out there — a bit south of 200 of you — have absolutely supported this work, something that I'm eternally grateful for.  
Additionally, I've recently soft-launched a subscriber-only Slack channel for subscribers. This is a bit of an experiment to let folks to chat with their fellow readers and myself, and it's been up and running for a couple of weeks. It's been a fun experiment so far: we've had some good chatter about books and stuff that goes beyond the comments section on each post. It helps me get to know y'all a bit better. If you're a member, you should already have access: you can find the link here.
So — if you're able, if you've found this newsletter to be interesting, useful, or entertaining, I'd love to invite you to sign up and help support it. If financially supporting the newsletter isn't in the cards, that's okay too: consider sharing it on social media and saying why you subscribe, or share it with a friend who you know likes the genre.
Ghost's options for discounts is a bit more limited than Substack's, but what I've done is drop the price of an annual subscription to $45 (if you subscribe month-to-month, the annual price is $60.) I'm not messing with the month-to-month price, because I don't know if a discounted rate will stick when I reset it. This discount will remain in place for the next two weeks!
Thank you so much for your consideration — it's genuinely appreciated. (And thus ends my self-promo spiel for the rest of the year.)
---
This week in SF/F
The other day, a friend and fellow writer, Eliot Peper (author of books like Veil and Cumulus) made an interesting observation on Twitter: "Every company/lab/team should hire writers/vloggers/artists-in-residence to distill their work into stories that invite outsiders along for the ride," he wrote, quote tweeting someone saying asserting that research labs should hire vloggers to document how they go about their days with mini-documentaries.
I like that idea quite a bit, and it parallels with some of my thoughts about the value of fiction and storytelling beyond the world of entertainment. This is something I've written about before: the US military has increasingly utilized science fiction and storytelling as a learning exercise for way to envision and conceptualize the challenges that they'll face in the future, companies like Nike and Boeing and Microsoft hire science fiction writers to envision the future, Arizona State University's Center for Science and the Imagination frequently collaborates with science fiction authors and researchers to use the genre as a way to advance various cutting-edge ideas from solar energy to space exploration, while the European Astrobiology Institute has released a couple of very similar initiatives in the last year.
Storytelling has an inherent value here: while researchers and strategists can conceptualize the challenges that we might have coming up in the future, a story can help provide some emotional weight and context. There's a long-standing adage attributed to Frederik Pohl, that "A good science fiction story should be able to predict not the automobile but the traffic jam." This type of fiction does that: it helps unlock the "what if" potential that the genre has, allowing folks to not only communicate their ideas and theories to an audience, but do so in a way that imagines how those ideas and theories might play out in a practical way. Those stories might impact how they're implemented or conceptualized.
Peper makes an excellent point here, and what he proposes doesn't necessarily need to be something couched in science fictional terms: storytelling, whether it's through a vlog, short documentary, short story, or other form of fiction or nonfiction, can help clue in an audience to understand the implications of what's being generated in a lab or company. It can be an extremely useful exercise for a company / nonprofit / organization to sit down and let their creative juices flow on a regular basis to get people thinking about what's coming down the pipeline and how find creative solutions to problems, or anticipate potential challenges.
One example that sticks out in my mind is a video that glassmaker Corning released way back in 2011: A Day Made of Glass.
The film extrapolates a bit into the future and follows a family throughout their day.  They get notifications and check up on the news on a variety of surfaces like their mirror and refrigerator, chat with some relatives on a super-thin smartphone and kitchen countertop, and more.
A decade ago, a lot of these ideas were something out of science fiction — and a bunch of them still are. There are elements of this that aren't too far away from Minority Report, but there are aspects here that ring pretty true. This video came out a year after Apple introduced FaceTime, and video chatting has become something that's routine. How many will be commonplace in the next ten years?
I bring up "Day Made of Glass" not because it's what I'd call high-value filmmaking or anything that's going to win awards, but because it helped showcase some of that potential that Corning sees in its products, and how they might figure into our lives. It's one thing to say that maybe we'll have an interactive set of screens that are all over the place in our homes, cars, and workplaces, but it's another to show of how those various elements might figure into our day-to-day lives. I think that's why it's stuck with me over all these years: it's an effective story that might not be 100% accurate, but it's largely on the right track.
At the end of the day, storytelling is what helps make concepts stick in our heads and help us understand the potential that the next couple of years can bring us.
Here's a bit of homework for you this weekend: think about your line of work, and think about what your role might look like a decade from now in 2031. What changes to technology will impact your tasks? How will that affect the social nature and culture of your workplace or organization? Will those changes be good or bad? What's a piece of technology that's not necessarily central to your life, but might otherwise have an impact? Try your hand at writing out a moment from that day, and see what you come up with.
---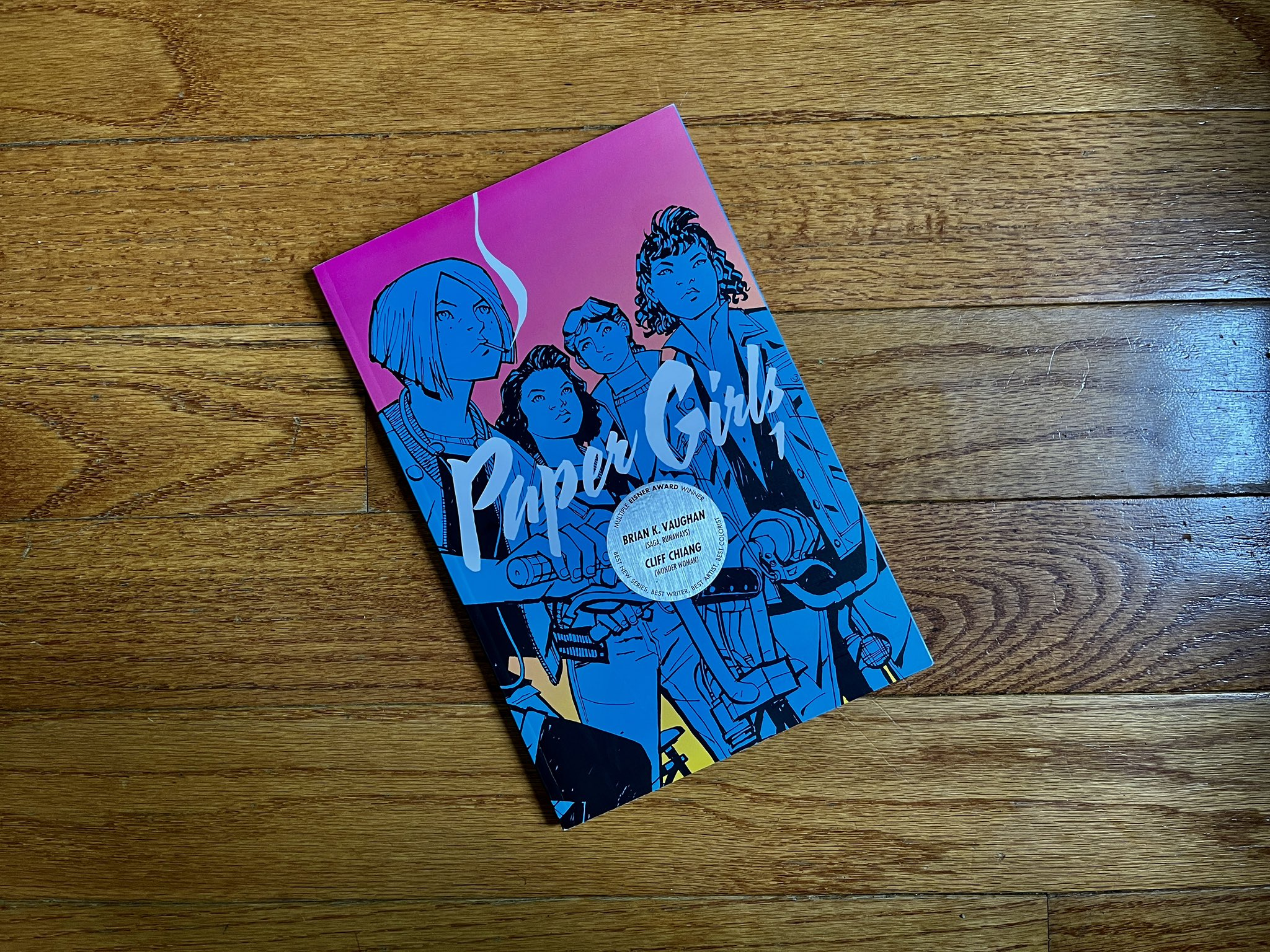 Currently Reading
I'm still picking away at the same slate of books, but I'm a hair's breadth from finishing Jeff VanderMeer's Hummingbird Salamander, which is turning out to be really excellent. A couple of days ago, a neighbor was giving away a stack of books, and I picked up a copy of Brian K. Vaughn and Cliff Chiang's Paper Girls, which I blew through in an afternoon. It's a really interesting comic that reminded me quite a bit of Stranger Things, mixed with a bit of time travel.
On the trip, I'm bringing with me just a couple of books: Elliot Ackerman and Admiral James Stavridis' 2034 and S.A. Cosby's Blacktop Wasteland. On my iPad, I have an advance copy (it came out earlier this week) of Jess McHugh's Americanon: An Unexpected US History in Thirteen Bestselling Books, which looks utterly fascinating.
---
Further Reading
---
Have a good rest of the weekend — I'll (hopefully) have my interview with Becky Chambers transcribed and out to you next week, along with another thing or two...
Andrew