All the SF/F books to check out in the first half of May
Books about dragons, publishing, future warfare, alternate worlds, and quite a bit more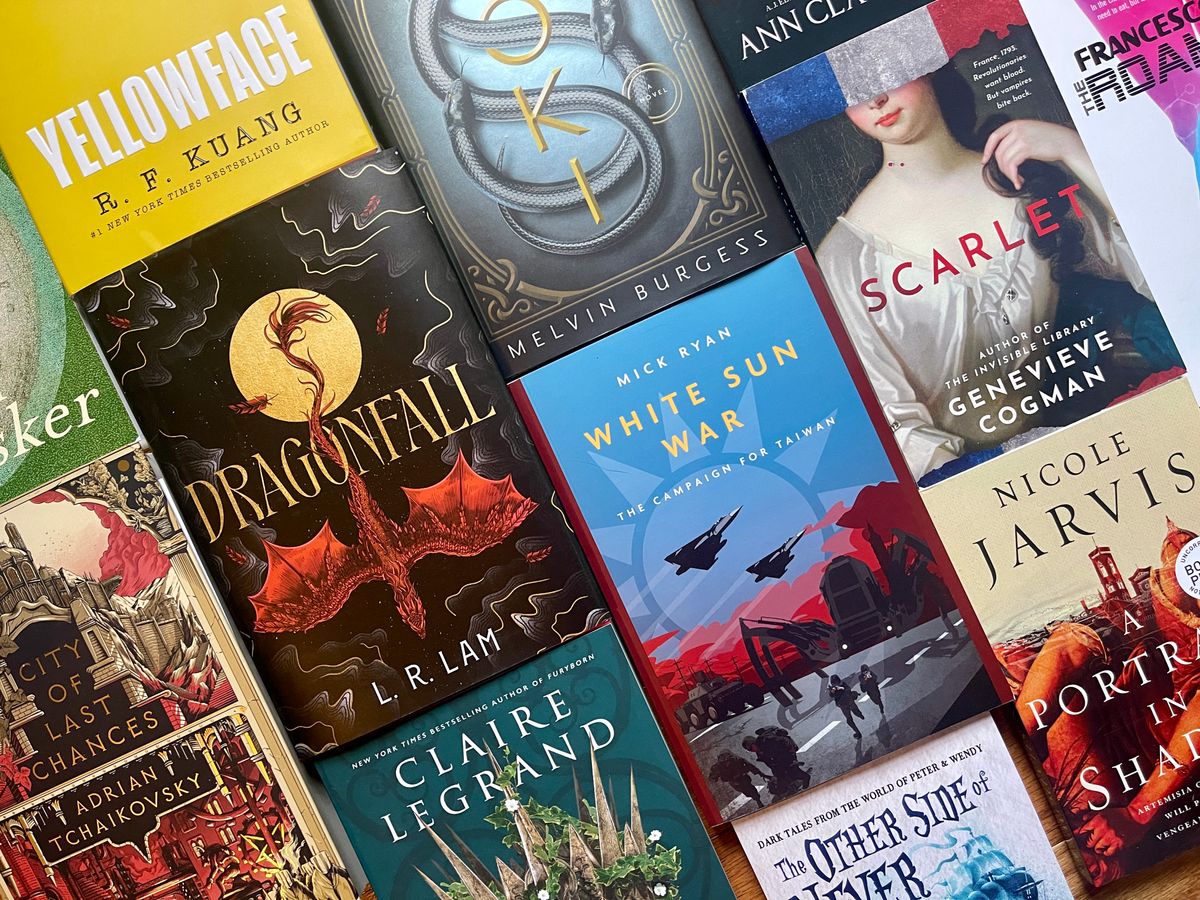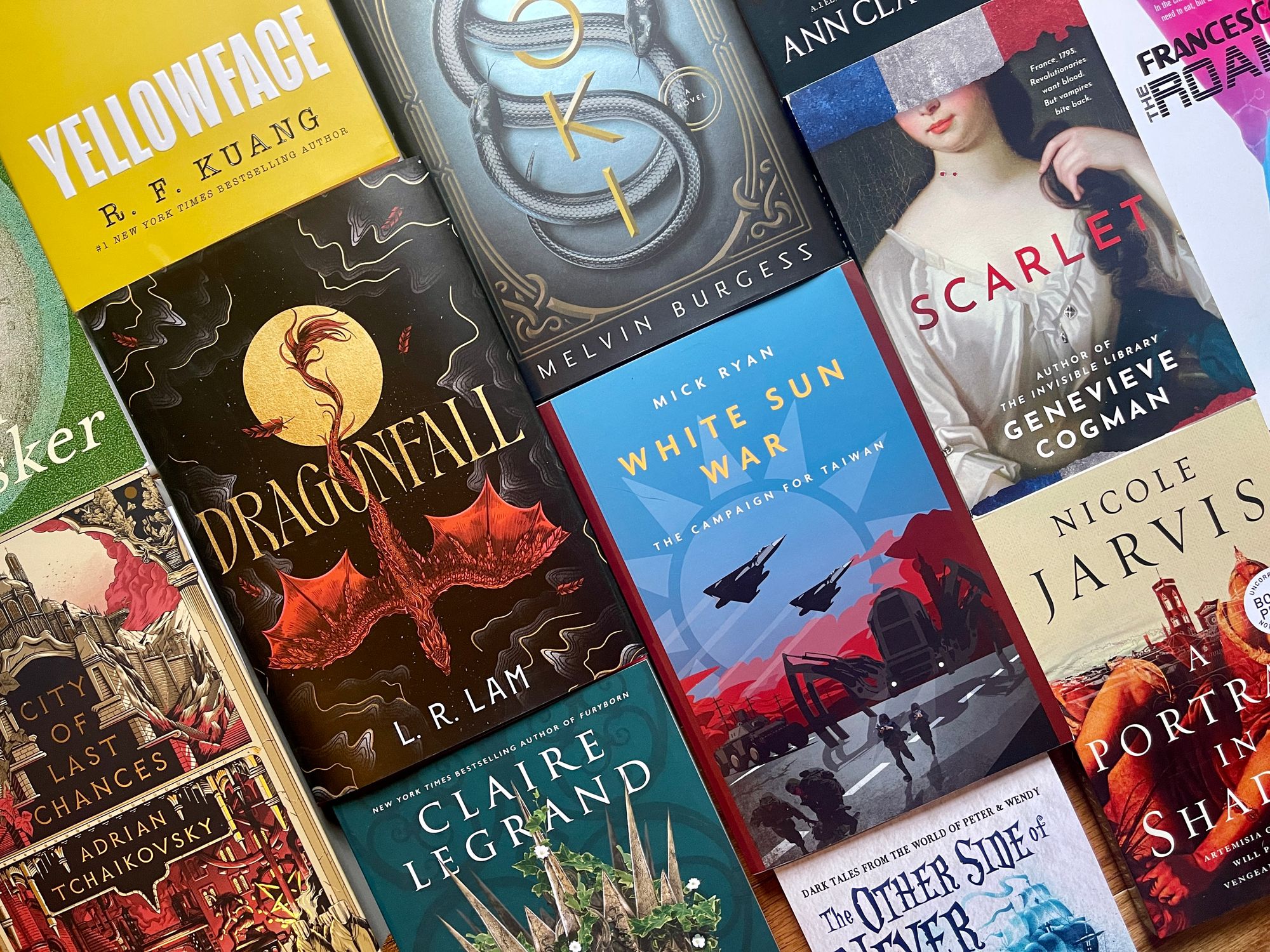 I've got a brief plug before we get started: the Columbus Metropolitan Library invited me to talk about the history of cosplay! It's a virtual talk, and it'll take place tonight at 6pm Eastern. Here's the signup link. I hope to see you there!
Somehow, it's May.
Like the last couple of months, I'm splitting this book list into two parts: here are the books hitting stores in the first half of the month; I'll send the second part out in a couple of weeks. You can also find prior lists via the Book List tag here in Transfer Orbit, and in case you missed them, here are the two lists for April.
If you find a book that you like, please consider supporting the newsletter. There's a good amount of work that goes into these book lists and your support really does help keep this newsletter humming along. Links to Bookshop.org are affiliates, and if you make a purchase through said links, we'll get a small commission. You can also subscribe as a supporting member:
Spreading the word is also incredibly important: if you've enjoyed what you've read, please consider sharing this on Facebook, Twitter, Reddit, Substack, #insertSocialMediaNameHere, etc. Every little bit helps grow this community.
Okay, here are the 19 new SF/F books to check out in the first half of May:
When a teenager named Aneques discovers a dragon's egg and hatches it, it's the first time in generations that the island of Masquapaug has seen such a creature. It's a cause for celebration for her people, but it also brings in some complications to their lives: the Anglish colonizers who've taken over her homeland have specific ideas about how dragons should be raised, and she's forced to enroll in a dragon school far from home. It's an entirely new environment for her, and she's determined to succeed, despite the challenges thrown in her way.
Grimdark Magazine raved about the book: it's "one blazing epic gulp of a fantastic tale. Queer, anticolonialist, and full of dragons. Moniquill Blackgoose's writing is easy to love: cutthroat, smooth, and reminds me of a story being told over an open fire."
Loki by Melvin Burgess (May 2nd)
Melvin Burgess looks back to Norse mythology to retell the story of the trickster god Loki. He starts with the creation of the universe and his own birth within a hollow tree, following his life through all if his explores alongside Odin and Thor, looking at how despite his charisma, Loki's an outsider in Asgard and how his relationships and powers go wrong.  
In his review for The Guardian, Philip Womack notes that "Burgess's approach is different. He writes from Loki's perspective, in the first person, which lends the book the air of a young adult novel. Loki, far from being a liar, wants to inform us that he's been telling the truth all the time. It's the other gods who have been defaming him."
Silenced by Ann Claycomb (May 9th)
In this modern-day fairy tale, Jo, Abony, Ranjani, and Maia have all been subjected to a curse from their company's CEO after he used his position to prey upon them. They can't report his sexual assaults, but as they each meet and realize that there's a pattern, they team up to take him down and expose him.
Publishers Weekly says that "the heroines and their strong connection carry the day" and that "fans of feminist fairy tales will find plenty to enjoy."
Scarlet by Genevieve Cogman (May 9th)
Genevieve Cogman sets out with a new fantasy adventure set during the years of the French Revolution. As the people of France have begun beheading the members of the upper classes, plenty of vampires have found themselves at the wrong end of the guillotine, while the Scarlet Pimpernel has been hard at work trying to save those about to meet their fate.
The disguised rogue has an unexpected ally: Eleanor Dalton, a housemaid for a vampire's estate who dreams of becoming a dressmaker, is a spitting image for Marie Antoinette. She's pulled into the schemes of the revolution and finds herself in the midst of a centuries-long conflict that's been waged between vampires and their enemies.
The Ferryman by Justin Cronin (May 2nd)
Justin Cronin, best known for The Passage, returns with a standalone story about a utopian island called Prospera that was founded by a mysterious figure known as The Designer. Its citizens are monitored all the times as they live a rich, fulfilling life, until they're alerted that their well-being falls below 10%, when they're then shipped off to another island called The Nursery, where they'll be renewed and reset to start new lives. As you'd expect, when ferryman Proctor Bennet discovers that he's ferrying his father to the Nursery and that his passenger isn't thrilled with his fate, he begins to peel back the layers to learn more abotu the truths behind his home.
Kirkus Reviews gave the book a starred review, saying "the twists in this novel are plentiful and authentically surprising, and although there are tons of moving parts, Cronin does a wonderful job handling them. This is a dystopian novel that doubles as a detective story, and Proctor is an appealing protagonist, semi-hard-boiled but never descending into cliché."
Edward Gross has made a name for himself as an entertainment journalist and author of a ton of oral histories about the making of a whole bunch of big SF/F shows and franchises, like Battlestar Galactica, Star Trek (parts one AND two), Star Wars, and a whole bunch of others. I suppose it was only a matter of time before he turned his attention to Stargate SG-1. I'm eager to read this: Stargate's long been one of my favorite shows, and I'll be interested to see how it came about.
In this epic fantasy, a party saved the world by stopping the Dark Lord and seizing his weapons and home city of Necrad. When their leader, Aelfric, who's held onto his enemy's cursed sword Spellbreaker, learns of a new threat to their world, he seeks out his former companions to once again save the world.
But he finds that those former heroes aren't willing to help: they're not interested in adventures or saving the world, and have become complacent and stagnated in their new positions of power, and some have been corrupted themselves.
Cassandra Khaw takes on the fairy tale of a mermaid who falls in love with a land-dwelling prince. But while we have the Disney version of this story wedged in our heads, let's remember that this is Khaw, and her mermaid has teeth: her daughters have burned the kingdom down and are now on the run.
Teaming up with a mysterious plague doctor with their own secrets, they encounter a pair of strange, bloodthirsty children who're controlled by a trio of "saints", and if either want to survive, they're going to have to resort to their baser instincts.
Publishers Weekly gave the book a starred review, saying "Both elements [tenderness and violence] prove devastatingly effective in constructing a folklore-infused world that feels wholly unique for contemporary horror fiction. Expertly blending a gothic atmosphere with elements of splatterpunk, this brilliant novella is not to be missed.
Yellowface by R.F. Kuang (May 16th)
Kuang's Babel was one of my favorite reads of 2022, and as I've been reading Yellowface over the last couple of weeks, I'm marveling not only how different it is (it's not a SF/F book), but how it also packs just as hard of a punch.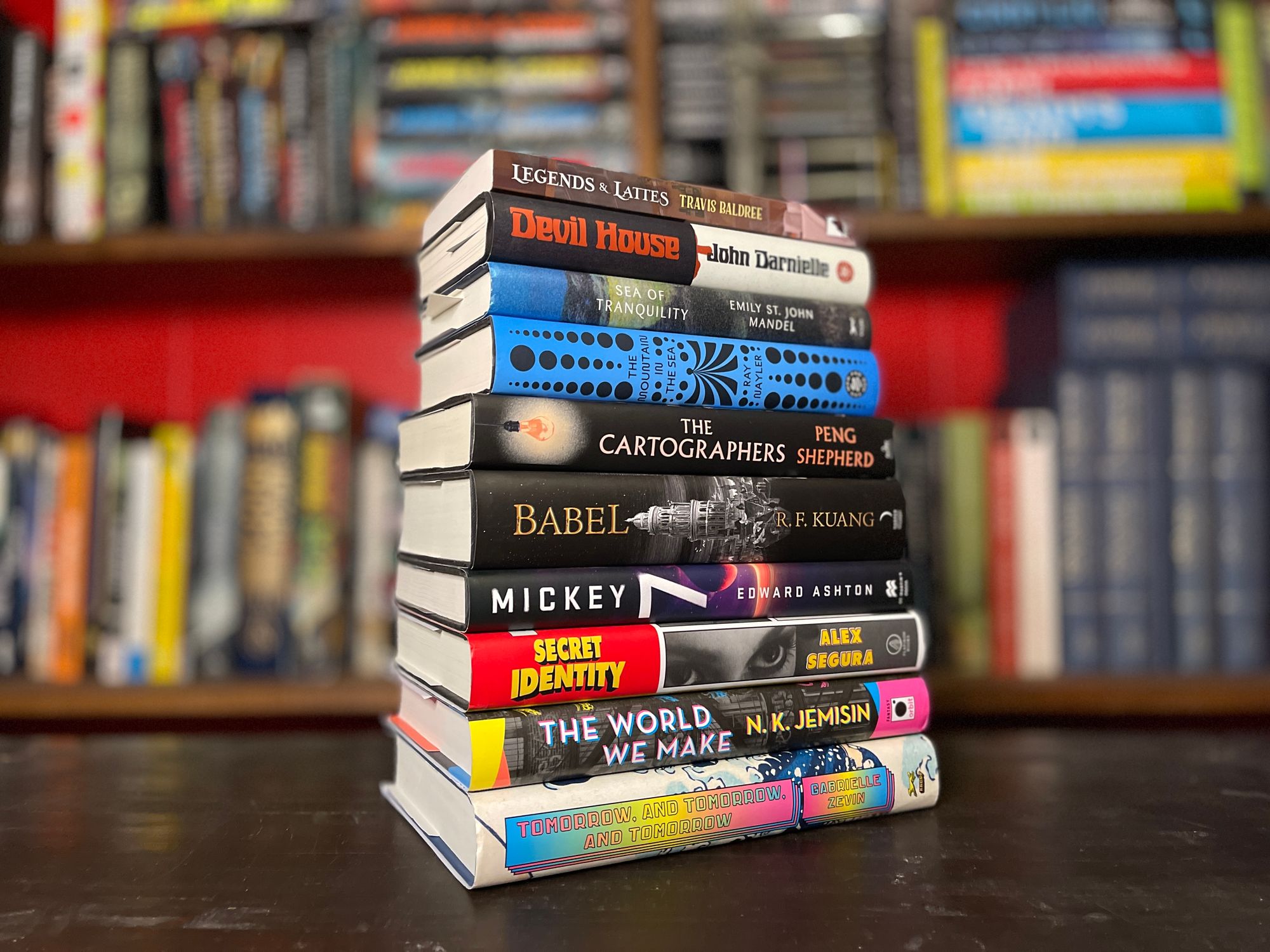 It follows a young author named June Hayward, who's a friend to another rising star named Athena Liu. Athena's on the fast-track to literary stardom: she's published a handful of critically-acclaimed novels, has begun to break into mainstream fame. June isn't so fortunate: her first novel ended up at a small press and her career is floundering before it's even started.
Athena tells June that she's just finished a new, ambitious book about the plight of Chinese laborers during World War I, one that she hasn't shared any details about with her publisher, agent, or family. When she chokes to death (in front of June), June takes that newly-finished draft, and after some rewrites, publishes it to widespread acclaim, but it isn't long before she thinks that she's being haunted by Athena's ghost.
Publishers Weekly gave the book a starred review, noting that "Kuang provides a sharp analysis of publishing's blind spots and guides the plot toward a thrilling face-off between June and Athena's 'ghost.'"
An artist named Artemisia Gentileschi arrives in Florence to seek out a new home, only to find that the city's Accademia, the protectors of the city's magical art world, aren't all that welcoming. The all-male group closely guards the secrets that their magical artists employ, and aren't willing to accept this new, ambitious artist.
Artemisia doesn't give up, and begins finding friends an allies, such as Galileo Galilei and Cristina de' Medici. But those allies can also bring problems, such as an influential preacher who turns his attentions from Galileo's work to hers, and she'll have to choose between revenge for scandals in her past and the chance to make art that will define and inspire generations to come.
Dragonfall by Laura Lam (May 2nd)
In L.R. Lam's latest novel, a group of dragons that were once betrayed and banished from the mortal world to a dying one, and centuries later, their descendants worship them as gods. They're not happy about their existence, so when a thief named Arcady steals a magical artifact that connects him to Everen, a dragon foretold to save his kind, he's the first dragon to return in generations.
To save his people, he disguises himself as a human, and he sets off to regain his powers and form, but first, he'll have to befriend the thief and bond with him before killing him, something made a little more difficult as the two become closer.
Publishers Weekly says "Lam crafts a dynamic world of mystery and magic populated by diverse characters with well-shaded backstories and conflicting motivations that add a layer of depth to this sophisticated fantasy."
Claire Legrand kicks off a new trilogy with A Crown of Ivy and Glass, in which we follow a young royal named Lady Gemma Ashbourne, whose family has been blessed by the gods with some special abilities. But despite a life that sounds wonderful on paper, her family has been torn apart: her mother left, her sister was taken from her, and her father and sister are embroiled in a deadly feud with a rival family. On top of that, Gemma is the only family member without magical abilities.
When she meets Talan d'Astier, she finds a kindred spirit: his family has also seen its share of problems, and he offers her a bargain: she'll help Talan learn about how to navigate the royal court if he helps her destroy her family's rivals and a legendary demon, but they'll need to work quickly as things begin to spiral out of control, and she'll have to be careful of avoiding her own self-destruction.
This new anthology presents a number of stories with some new takes on Peter Pan. There's a packed lineup here, with authors such as Premee Mohamed, Claire North, Cavan Scott, Lavie Tidhar, A. C. Wise, and plenty more included in the table of contents.
Sarah Pinsker is one of the SF/F scene's acclaimed writers, and this new volume is a recent collection of some of her recent shorter works of fiction, including "Where Oaken Hearts Do Gather" (which won the Hugo, Nebula, and Locus awards for best short story in 2022), and "Two Truths and a Lie" (which earned the Hugo and Nebula for best novelette in 2021.)
This looks like an incredible collection, and Gary K. Wolfe writes in his review for Locus Magazine that it's a good example of her "contagious enthusiasm for story in all its forms – not just short stories, fables, and fairy tales, but tacky old kids' TV shows, improvised campfire tales, urban legends, mysterious ancient ballads, fading memories, even compulsive lying."
March's End by Daniel Polansky (May 9th)
I've long had Daniel Polansky's novel Low Town on my to-read list, and this one sounds just as intriguing: for generations, the Harrows have seemed like a regular family, but by night, they're the rulers of The March, a fantastical world that's inhabited by living toys and lichen, with strange cities and magical storms.
The world might be a wondrous fantasy, but it also has some long-buried secrets, secrets that the Harrows have protected it against when they're not dealing with their own rivalries.

Publishers Weekly notes that "Polansky's impressive worldbuilding shines in the extensive and vivid descriptions of the March's myriad creatures, and the somber coming-of-age struggles each of the children go through keep the pages turning."
One of the newer iterations of military science fiction that's fascinated me has been the rise of FicInt (Fictional Intelligence), a subgenre of stories written by military (or defense industry) personnel that aims to wrap up some topical lessons about the state of geopolitics and military affairs in a format that's more readable than a dry report or white paper – books like P.W. Singer & August Cole's Ghost Fleet: A Novel of the Next World War or Eliott Ackerman & Admiral James Stavridis's 2034: A Novel of the Next World War.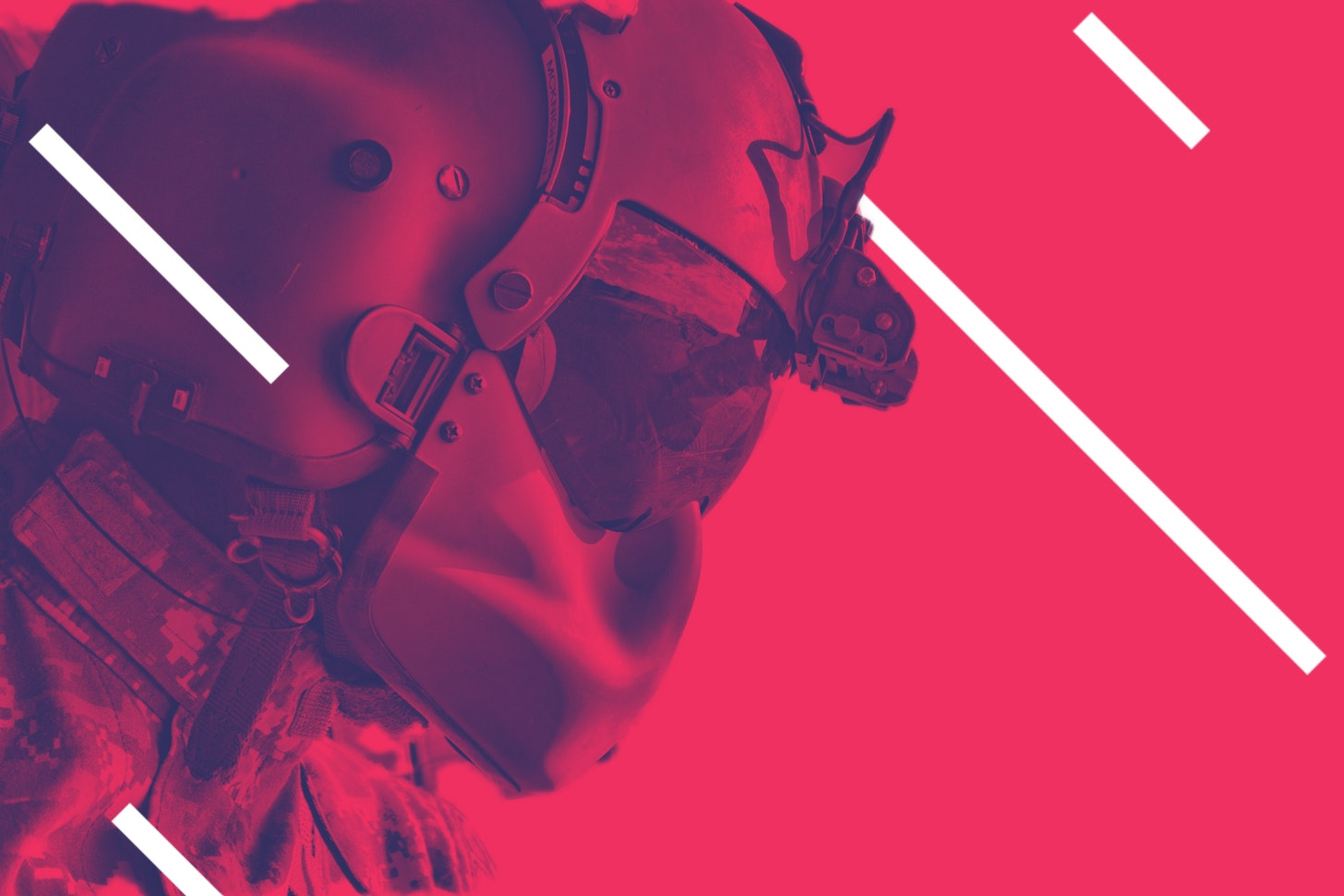 Now, General (RET) Mick Ryan is joining those ranks. He recently retired from the Australian military, and in addition to being a huge fan of science fiction (we share a table of contents in Strategy Strikes Back: How Star Wars Explains Modern Military Conflict), he's also been keeping close tabs on the state of the ongoing invasion of Ukraine by Russia. (He's got an excellent newsletter about this). For his latest book, he envisions a scenario in which China begins to invade Taiwan, sparking a war between it and the United States. In it, he's looking at not only if such a conflict is winnable, but how cutting-edge technology will play a role in the fight.
Adrian Tchaikovsky recently took home the British Science Fiction Association's award for best novel for his book City of Last Chances, which now finally arriving in the US. It's a dark fantasy novel set in the Palleseen-occupied city of Ilmar, which has been turned into a powder keg of tension. At the edge of the city is a forest that leads to plenty of other realities, and as the city and its inhabitants deal with the growing after the theft of a priceless amulet, they're forced to contend with the cracks in the system as the work to overthrow their oppressors.
Writing in Locus Magazine, Russell Letson says that "there is a great deal going on in Ilmar, too much story to do more than hint at here, but it's an intriguing tangle, dense, dark, ingenious, ironic, complex, often funny, and always smart."
As if that wasn't enough, Tchaikovsky has another book coming out this month: Terrible Worlds: Revolutions (May 23rd), which collects his short fiction.  
The Roamers by Francesco Verso, translated by Jennifer Delare (May 9th)
In a near-future Rome, humanity has opted to undergo a nanite-driven transformation, which changes everything from how they eat to how they live, bringing about a new culture to inhabit the Earth. Verso explores the ramifications of those changes as he follows a group known as the Pulldogs, early adoptors of the technology, and how they contend with the new world they've built.
Grimdark Magazine notes that it's "a highly original and thought-provoking take on the role of nanotechnology in biological augmentation and its impact on society. The future envisioned by this solarpunk novel is not the utopian ideal, but rather one full of moral complexity as exhibited by the Pulldogs. In the end, Francesco Verso shows that although technology can alter human physiology, it cannot change human nature itself.
A decade from now, the world has turned into the worst-case scenario for a cyberpunk future. Kiera makes ends meet by working endless gig jobs, but her personal ranking is so low that she's about to be evicted. While working with a PI named Angel Herrera, she ends up picking up a job to track down her missing attorney and Herrera's ex-best friend, only to discover that he's been murdered. When another person goes missing under similar circumstances, Kiera's accused of both crimes, and now, she'll have to work desperately to get herself out of this situation.
Publishers Weekly says that it's a rollicking story and that the "the result is fresh, exciting cyberpunk."
---
That's it for today: let me know what catches your eye, and what you're currently reading.
Cheers,
Andrew