Even more books to check out this May
21 new adventures to add to your TBR for the rest of May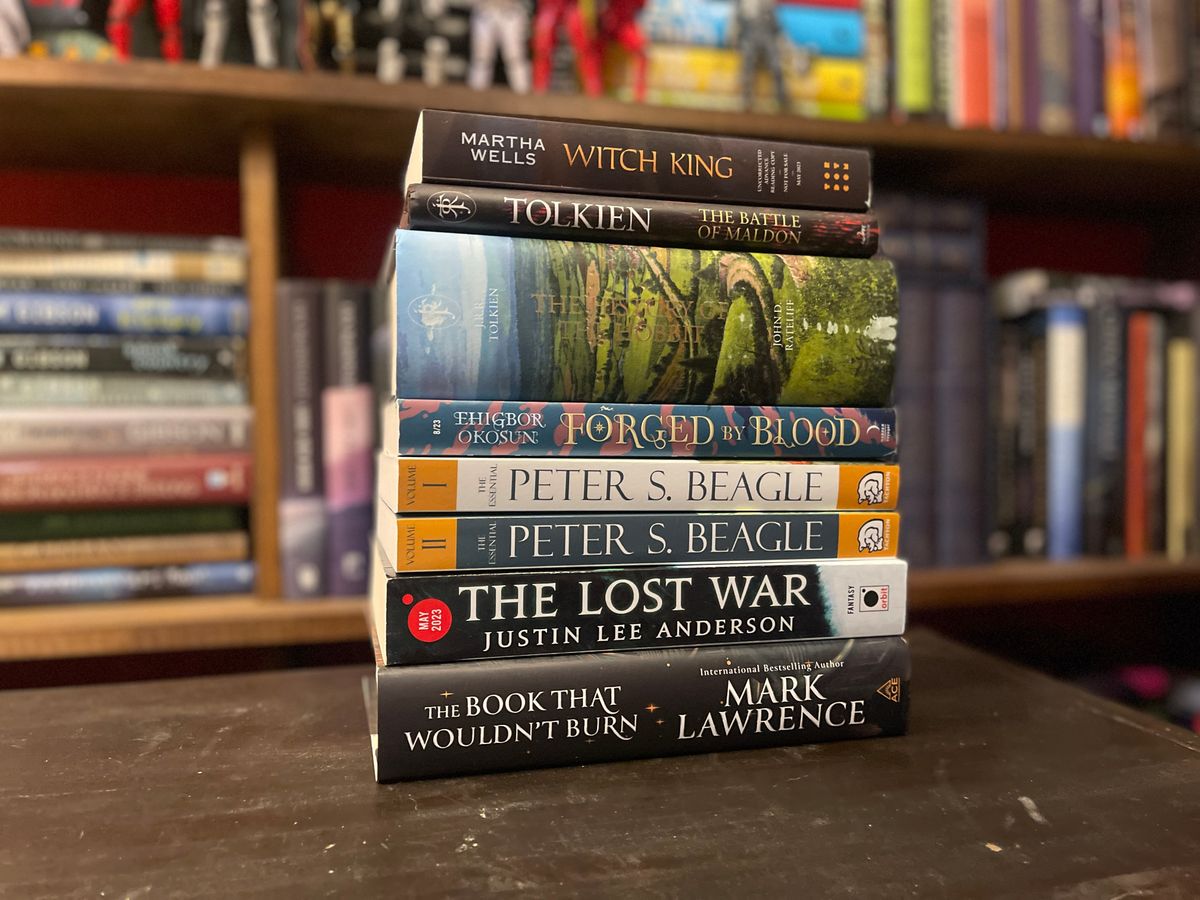 This is the long-overdue May 2023 Book List 2: apologies for the long delay in getting this shipped out the door!
In case you missed it, here's the first May book list: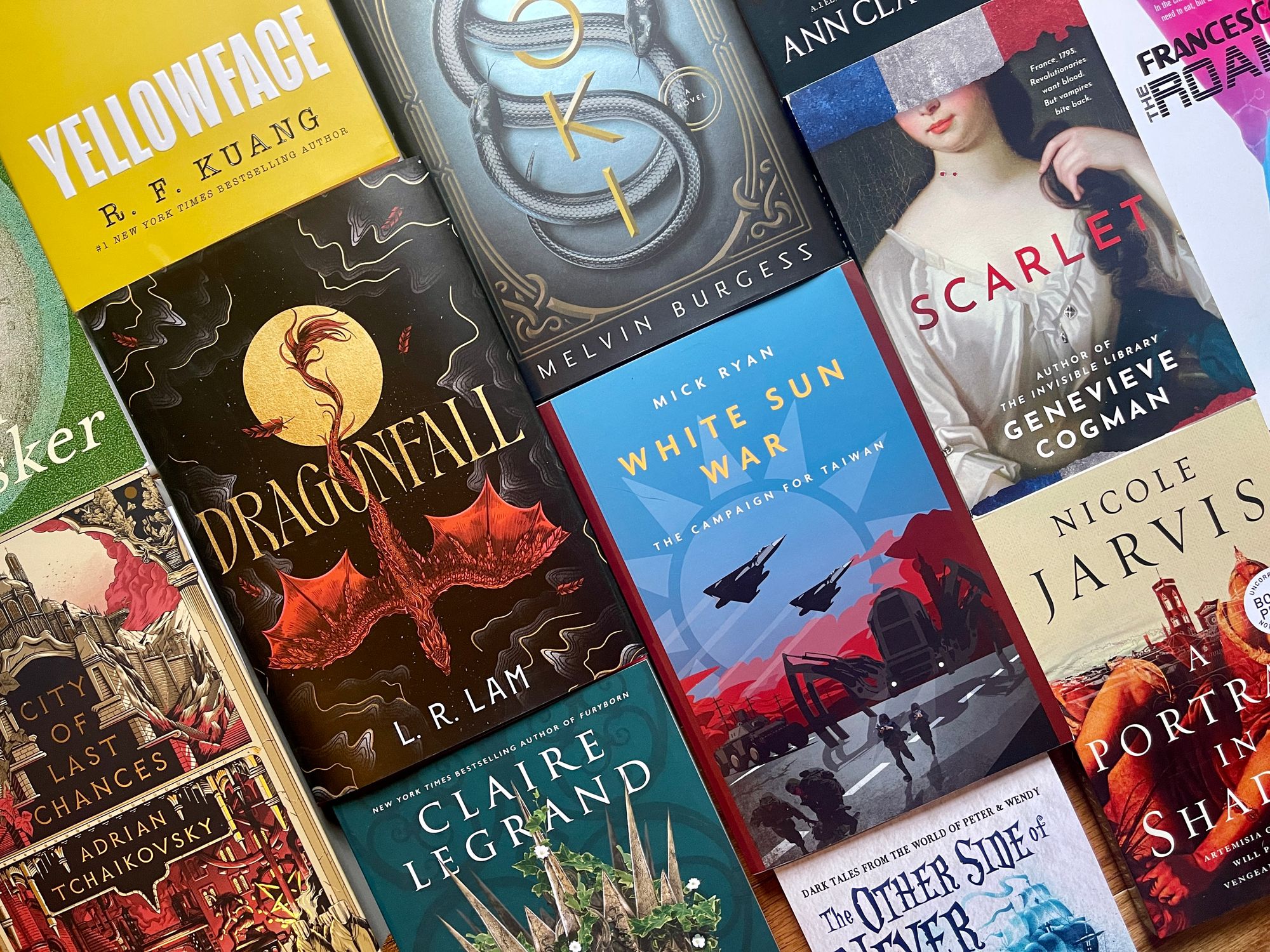 You can also find earlier lists via the Book List tag. As always, please consider supporting this newsletter by becoming a supporting subscriber.
Links to Bookshop.org are affiliates, and if you make a purchase through said links, we'll get a small commission.
Without further ado, here are 21 new SF/F titles hitting stores at the end of May for you to check out.
Halcyon by Elliot Ackerman (May 23rd)
I was a big fan of Elliot Ackerman's FICINT novel 2034 when I read it a couple of years ago, and I've been interested in seeing what he'd do next. As it turns out, it's an alternate history set in 2004, about a historian named Martin Neumann who has to confront the news of a scientific breakthrough: a cure for death. Along the way, Ackerman looks at the meaning of history and those who're affected by it, while also tackling issues of polarization in the country.
Publishers Weekly notes that "Ackerman is great at probing the scientific ethics of resurrection," and that "this visionary tale is worth a look."
The Folio Society has released a new, limited edition of Douglas Adam's classic science fiction series The Hitchhiker's Guide to the Galaxy. This edition is limited to 750 copies, comes in a neat box, with introductions from Terry Jones, Adam Roberts, and Jon Canter, and with illustrations from Jonathan Burton. It isn't cheap: this set runs $875.
If that's a bit too steep, Folio does sell the individual books: Hitchhiker's Guide to the Galaxy, The Restaurant at the End of the Universe, Mostly Harmless, So Long, and Thanks for All the Fish, Life, the Universe, and Everything for $70 each.
Set in the near future, Loretta Thurwar and Hamara Stacker are the lead stars of a controversial program called the Chain-Gang All-Stars, a program run by a private prison firm called Criminal Action Penal Entertainment (CAPE) that takes advantage of the incarcerated by having them fight in gladiatorial contests for their freedom. The pair are fan-favorites and lovers, and as Thurwar comes closer to freedom, CAPE is increasingly reluctant to let either escape.
Kirkus Reviews gave the book a starred review, saying "Adjei-Brenyah displays his impressive range of tone and voice as he deftly manipulates several points of view through shifting time periods; all the while, he maintains control over the elements of his dreaded alternate America, using footnotes and asides to elaborate on the laws and customs of this world but also making direct and similarly detailed connections to the real-life, present-day state of the nation's mass incarceration system with its brutalities and injustices. It is an up-to-the-minute j'accuse that speaks to the eternal question of what it truly means to be free. And human."
The Lost War by Justin Lee Anderson (May 16th)
In this new epic fantasy, Justin Lee Anderson follows a king's messenger as he works to gather up members of a party for an epic quest. The nation of Eidyn has recently been coming to terms with the end of a devastating war. While this recent conflict has officially come to an end, the violence lingers in the countryside: there are demons burning villages and mercenaries roaming the rural parts of the world.
When the king names a mage called Aranok the King's Envoy, he's tasked with helping a foreign queen ascend to the throne, aided by the group of strangers who he gathers together. As they set about their work, they have to contend with a conspiracy that could plunge the country back into war once again.
Grimdark Magazine says that it's "a solid, fast-paced adventure that straddled a comfortable line between tried and true fantasy tropes and intriguing unique elements to become a book I immensely enjoyed, and hope to have the follow-up in my hands as soon as possible.
Peter S. Beagle is a beloved fantasy author who's best known for The Last Unicorn. He's had a rough couple of years: he untangled himself from a court battle against his former manager, and now, he's got a pair of collections from Tachyon Press that collects his short fiction, which feature introductions from Jane Yolen and Meg Elison, as well as artwork from Stephanie Pui-Mun Law.
Kirkus Reviews awarded the first volume a starred review, saying "Brimming with magic, lyrical prose, and deeply felt emotion, this is, indeed, essential reading."
Dual Memory by Sue Burke (May 16th)
I loved Sue Burke's debut novel Semiosis when I read it a couple of years ago, and I've been intrigued by the premise of her upcoming standalone novel, Dual Memory, which looks at the future of artificial intelligence in a plausible, dystopian future. On one side is a mercenary and aspiring artist named Antonio Moro who's helping to protect a remote Arctic settlement from pirates, and is trying to root out infiltrators. He's aided by a moody personal companion bot, Par Augustus, and together, they set about finding ways to protect their home.
Publishers Weekly says "Burke loads the story with fascinating characters as she probes how humanity's artistic capacity to inspire might interact with AI's flexible intelligence. This playful glimpse of nonthreatening human-machine interaction is sure to charm."
Titanium Noir by Nick Harkaway (May 16th)
Set in the near future, Nick Harkaway's new novel is about Cal Sounder, a detective who's brought in by police departments for certain, special cases. One of those just dropped in his lap: someone murdered a man named Roddy Tebbit in his apartment. Roddy is one of those strange cases: he's over seven feet tall and despite being 91, he looks like he's 30.
Cal learns that he's a "Titan", a wealthy elite who's genetically altered himself. He's part of a class of people who've taken advantage of their wealth to become practically immortal to live out an ostentatious lifestyle that's out of reach of everyone else. The case is anything but straightforward, and it sucks Cal into a much deeper conspiracy at the heart of society.
Publishers Weekly gave the book a starred review, saying "Harkaway's superior worldbuilding makes it easy for readers to buy in to the conceit, which burnishes detective story clichés with sci-fi flair."
A prince named Vis Solum is orphaned when The Catenan Republic, known as the Hierarchy kills his family, and he goes into hiding. The country runs on a magical power known as Will: a mental power drawn from the people of the Heirarchy, ceded from the lower classes to those above them. Vis has refused to cede his Will, and is accepted into a prestigious academy ostensibly to hold off for another year, but when in reality, he's searching for a way to take down those who killed his parents from the inside.
Kirkus Reviews gave the book a starred review, saying that it's "a multilayered exploration of the complacent as complicit, all within a unique yet relatable magic system."
Mark Lawrence kicks off a new fantasy trilogy, The Library, with The Book that Wouldn't Burn. A young woman named Livira arrives in the city after escaping monsters that attacked her frontier village, and is assigned to its ancient library to train as an apprentice. The library is home to a magical device known as the Mechanism, which can bring books to life.
Over the years, it had trapped a group of children inside and returned them generations later, imbued with powers from the books they had been carrying, but are now unable to leave the building, except for Evar, who lost his memories, and who has spent years trying to find out what happened to him. When he and Livira meet, she works to try and help him with his quest.
Kirkus Reviews gave the book a starred review, saying "Lawrence works with many threads here, but none feels misused or insufficiently explored. Rather, the author unspools them masterfully, leaving behind a tightly woven tapestry that readers will ache to see finished even if they can predict one or two of the tale's myriad twists and turns."
A spy named Naria Sharp heads off to a distant planet along with Tarquin Mercator, a member of a powerful family that controls humanity's future in space by exploiting any resources they come across. Humankind is running out of habitable planets, and Naria is desperate to take down the family she blames for the destruction. Tarquin, however, would rather study geology and read, and was only out on this mission reluctantly.
As Naria disguises herself as Tarquin's bodyguard, her plans backfire when she destroys a settlement ship, and the two are stranded with no way home. As they're forced to rely on one another, they discover a deeper plot that will change everything they think they know about the situation.
Library Journal gave the book a starred review, saying "Emotional arcs and action sequences, vivid worldbuilding, and interesting explorations of body printing and corporate servitude provide an immersive story."
Award-winning author Premee Mohamed (Beneath the Rising, A Broken Darkness, and The Void Ascendant) brings together 17 of her short stories in this debut collection, featuring stories set in the depths of space, to the bottom of the oceans, and everywhere in between.
Publishers Weekly gave the book a starred review, saying that it's "by turns brutal and tender, terrifying and sweet, and Mohamed accomplishes the rare feat of maintaining a sense of human connection no matter how outlandish the stories' premises. The result will both terrify and delight."
Mars has long captured the imagination of science fiction writers and astronauts, and in this book, Mark Shindell takes a look how the Red Planet has captivated human imagination for thousands of years. He takes readers through the various eras of astrology and science, looking at how our understanding of Mars has changed over the ages, and how it's fueled our desire to go there.
Charles Stross adds to his long-running Landry Files series with Season of Skulls (#13), capping off the trilogy begun with Dead Lies Dreaming and Quantum of Nightmares.  
In it, the British Prime Minister is an ancient eldritch god who's punishing any criminal offense with death. Eve Starkey has risen to the head of the Bigge Corporation after a supernatural duel with her boss, Rupert de Montfort Bigge, but his influence lingers: through some adept legalese, she's bound by some contracts after apparently being married to him, and when a representative of the Prime Minister arrives with a tantalizing offer, she can't refuse it, even if there are other strings attached.
J.R.R. Tolkien is best known for his Middle-earth stories, but he was also a major scholar of ancient languages: his translations of Beowulf, Sir Gawain and the Green Knight, the legend of King Arthur, and The Legend of Sigurd and Gudrún have recently gotten their own reprints.
Now, we can add the epic poem about a 991 AD battle between Vikings and Anglo-Saxons along the Blackwater river: The Battle of Maldon. This volume includes Tolkien's own own work, "The Homecoming of Beorhtnoth Beorhthelm's Son," in which he imagined the aftermath of the battle when a pair of Beorhtnoth's allies come to collect his body from the battlefield.
The History of The Hobbit, by J.R.R. Tolkien and John D. Rateliff (May 16th)
I mentioned back in March that there was a new edition of The Hobbit hitting stores later this year, but as it turns out, that's not the only one coming out. There's a new edition of the classic fantasy novel in the form of The History of The Hobbit, a formerly two-volume set now bundled into a single edition.
This book contains Tolkien's unpublished Hobbit manuscript, which comes with John Rateliff's examination of the evolution of the book, detailing the changes that the author made as he worked on his larger body of work that is Middle-earth. The book also contains illustrations drawn by Tolkien, as well as other annotations and commentary.
This is a hefty book, but it looks like a fascinating bit of scholarship.
When folks ask me what my favorite Star Wars novels are, I often point to three: Timothy Zahn's Heir to the Empire, Michael A. Stackpole's Rogue Squadron, and Karen Traviss's Republic Commando: Hard Contact. The novel is an intense military thriller that follows a squad of the specialized clone troopers to an out-of-the-way planet on a mission to take out a Separatist target.
With the book, Traviss does something that few Star Wars authors have really done: get into the details about the Clones and the morality of war, and over the course of this book and its sequels, asks some difficult questions about the nature of warfare in the franchise. This edition is the latest in  Classics series, which repackages the book into a nice trade paperback with some new cover art.
This isn't the only book that's getting the re-release treatment this month: there's also Into the Void: Dawn of the Jedi by Tim Lebbon and Yoda: Dark Rendezvous by Sean Stewart coming out on the 23rd as well.
Witch King by Martha Wells (May 30th)
Martha Wells returns to her roots as a fantasy novelist after a mind-blowing stint writing her acclaimed Murderbot stories. While polling folks that I knew about what books they were most excited for in 2023, there was one book that was consistently at the top of the list: Witch King, Wells' latest.
In it, demon Witch King Kai-Enna is murdered, but his consciousness persists. He's reawakened when he discovers a mage trying to use his own powers, and has to figure out the circumstances of his death and the state of the new world he finds himself in.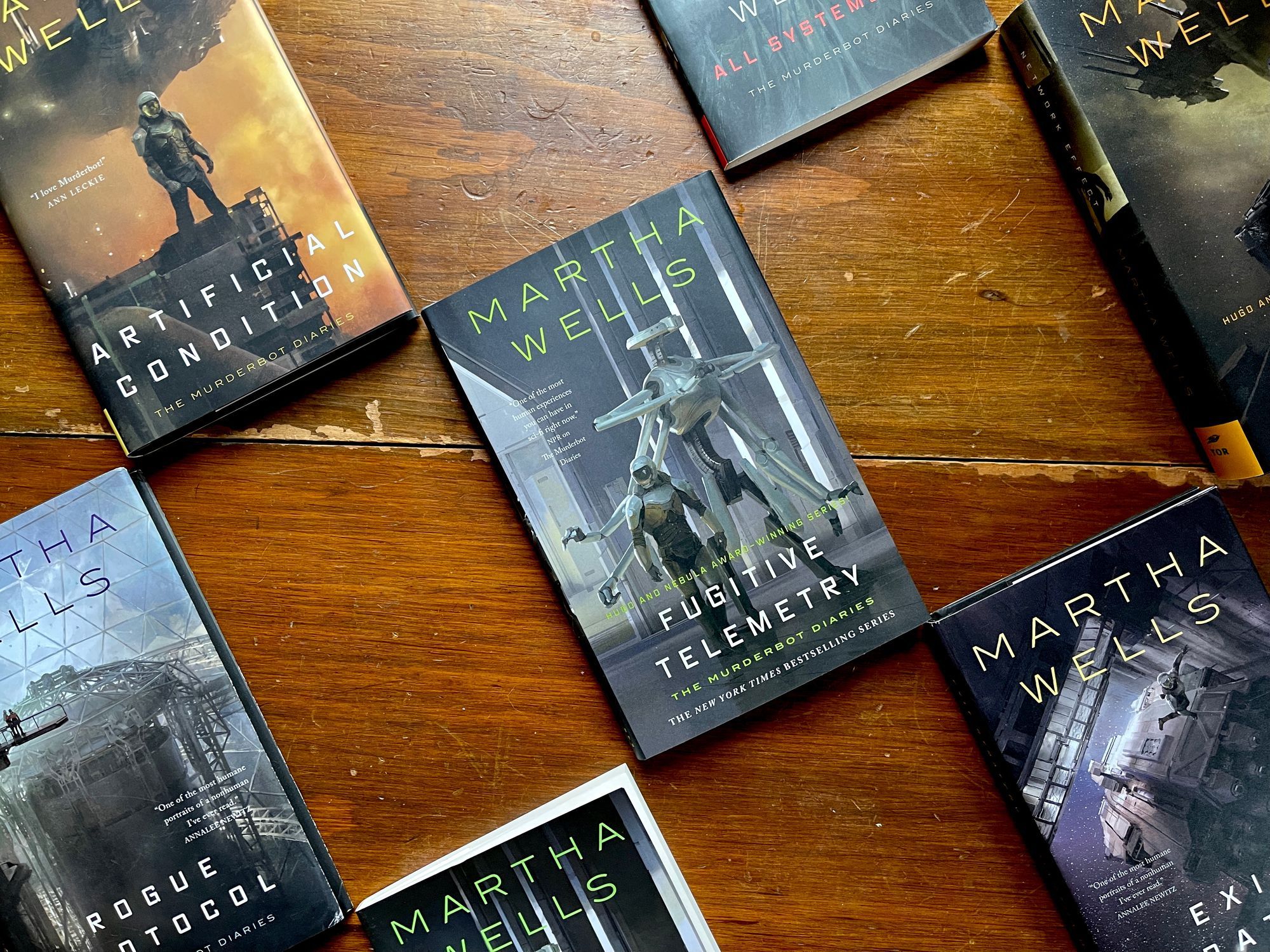 Paul Weimer of Nerds of a Feather wrote in his review "The novel's themes of cooperation, of tolerance, of opposing authoritarianism are all strong and well defined by Kai's story, past and present. There is also a real evoked theme of "building is harder than destroying, but building and rebuilding what has been destroyed is the better, longer path". And the novel also explores the dangers of the use of unfettered power and having access to that power and what it does to people, to societies.
Fourth Wing by Rebecca Yarros (May 2nd)
A young woman named Violet Sorrengail had planned on a future in the Scribe Quadrant, where she could read and study in peace. Her mother – the commanding general of Navarre – shatters that dream when she orders her to join the candidates of a war college for dragon riders.
Her time at the school is rough: she's small in stature, the training is brutal, and her fellow conscripts hate her for her mother's brutal actions against the country's separatists. On top of that, there are fewer and fewer dragons willing to bond with their riders. Despite those challenges, Violet begins to realize that this might be her calling – if she survives.
Publishers Weekly gave the book a starred review, saying "Yarros's worldbuilding is intricate without being overbearing, setting the stage for Violet's satisfying growth into a force to be reckoned with."
---