Succession crises
Why are we so attracted to stories dealing with the transfer of power?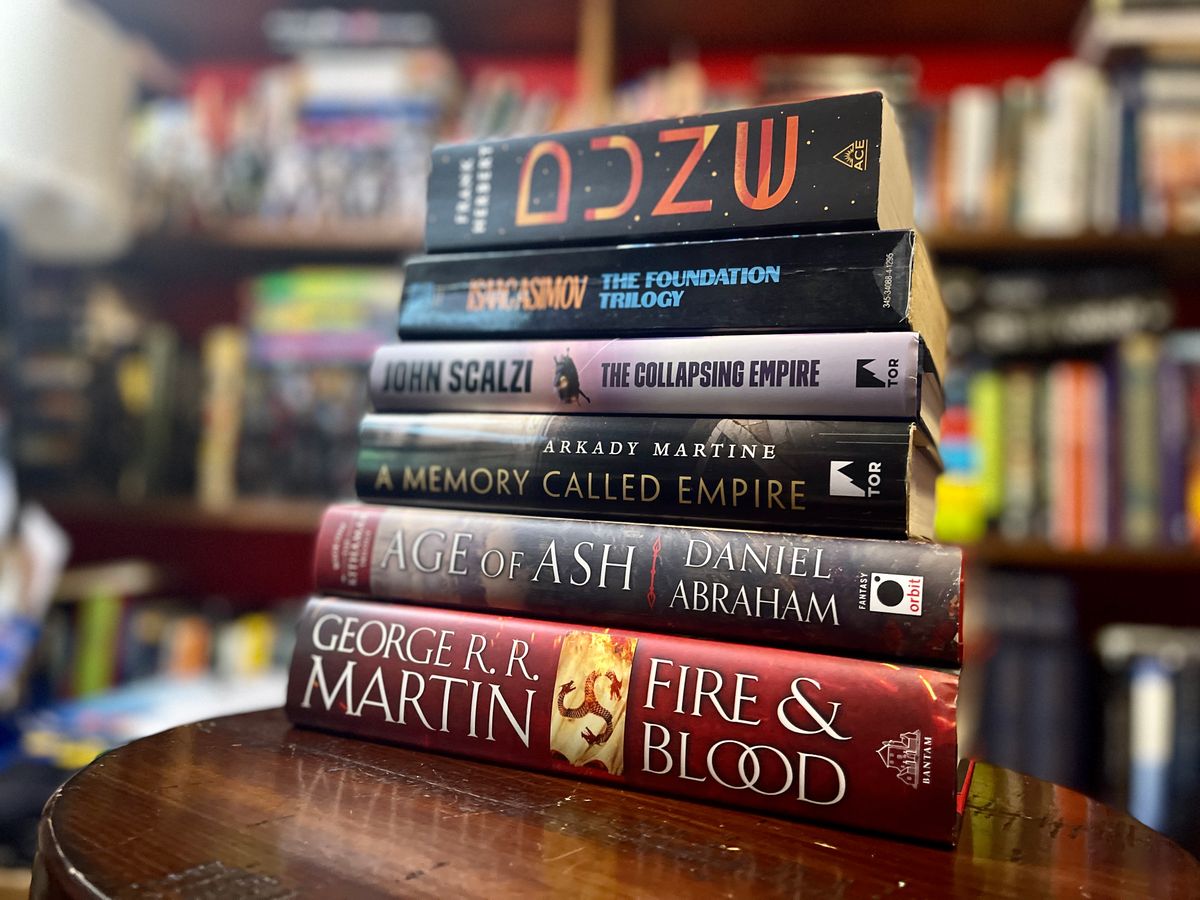 Hello!
It's been a moment since I've put together one of the typical roundups for this newsletter. It's been quite the week for SF/F news, with a whole bunch of corporate events ladened with product announcements. Of course, the biggest bit of news was word that Queen Elizabeth II died at the age of 96, and it's gotten me thinking about how her position and legacy has played into fiction over the years.
Succession makes for a good story
It's quite the world event, and while I'm not much of a royalist, she had a long run on the throne. That multiple-decade existence had lent itself to a certain feeling of stability, even as she saw the British Empire shrink away as various colonies pulled back from under her control.
Her passing comes at an interesting time, because it feels like the idea of governance and transition has been everywhere in science fiction and fantasy. Just this month we've seen a return to George R.R. Martin's Westeros in the form of House of the Dragon, a series all about royal succession and the complications that ensue, while we've also seen new attention placed on books like Frank Herbert's Dune and Isaac Asimov's Foundation, each of which deal with this idea of empires trying to figure out how to hold onto power by ensuring that their successors will stick with the same vision. I don't think it's any coincidence that a lot of these stories have come at a tumultuous time on the world stage as we've seen entire upheavals of the established political order get shaken up a bit.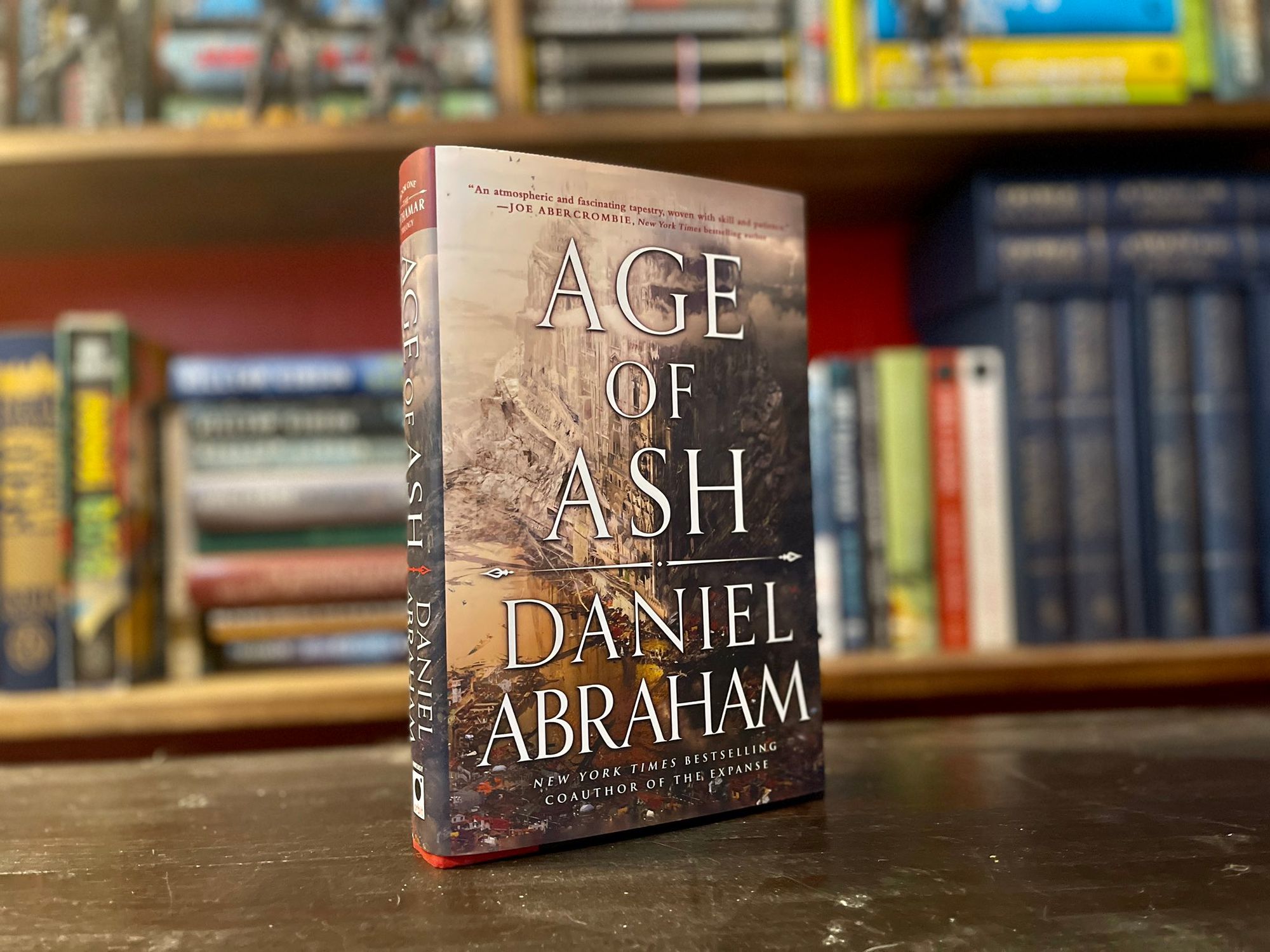 I don't know how much of a connection there is to the current set of problems that we're currently dealing with, and the stories that are coming out at the same time, but I do think that authors can tap into uncertain times for inspiration. Daniel Abraham's latest fantasy novel Age of Ash is all about a city that's dealing with a succession crisis when its leader dies, while Arkady Martine's book deals with an Emperor who's trying to figure out how to retain his hold on power in some unorthodox ways. (The same goes for John Scalzi's Collapsing Empire and its sequels, which introduces a technological fix for those leaders to maintain some sort of continuity in their rule.)
The idea of continuity of rule is, I think, the key to why this particular story remains so intriguing to readers. It's long been used (just sample Shakespeare's work and marvel at how we still draw upon him for inspiration) to drive no shortage of plots over the years, Martin's A Game of Thrones is nothing but a bloody argument over who gets to take control of a seat of power and impose their will on their subjects, for better or worse.
I've found these sorts of stories interesting because they sometimes reveal how tenuous control over X/Y/Z throne can be. The promise of power can make anyone confront or ignore their own morals because of the reward that it potentially brings, while also bringing plenty of danger to those who seek it out. And, it's something that's scalable: you can easily see these types of stories play out within a vast empire, as well as control over a corporation, or even a family. It's a story that presents situations that we can imagine ourselves in, wondering how we'd react in someone else's shoes.
For all the fictional drama that succession crises bring, this year's real-world iteration seems to be downright... boring and predictable. That's fine by me: I'd rather see Earth-shattering plots play out in the pages of a book, rather than on the streets of London.
---
Currently reading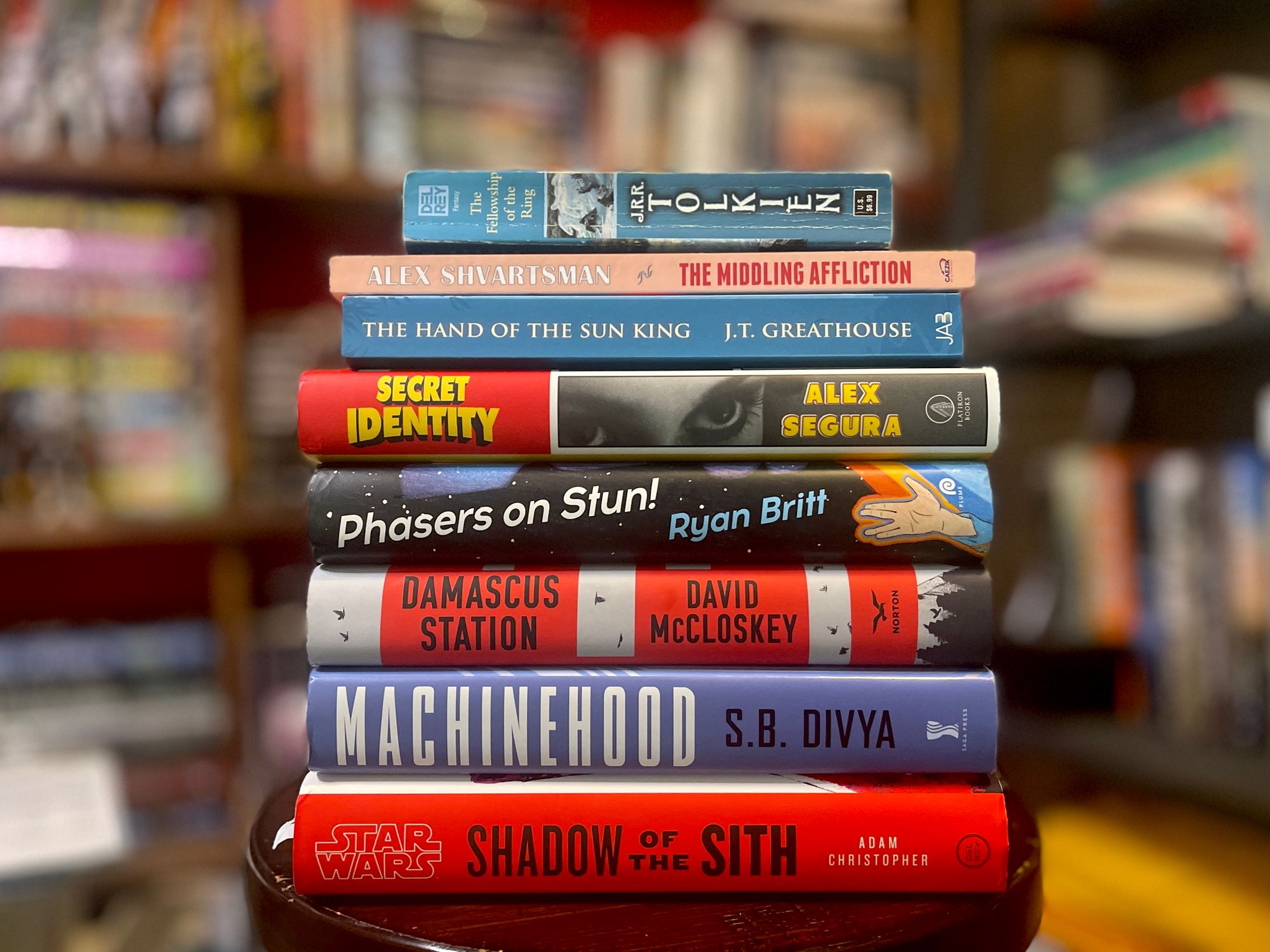 I've got a tall stack of books that I've been slowly working my way through, so of course it's a good time to pick up a familiar comfort read and get lost in that for hours at a time. Case in point, while at a library sale over the Labor Day weekend, I came across a battered copy of J.R.R. Tolkien's Fellowship of the Ring, the same edition that I started reading the series with.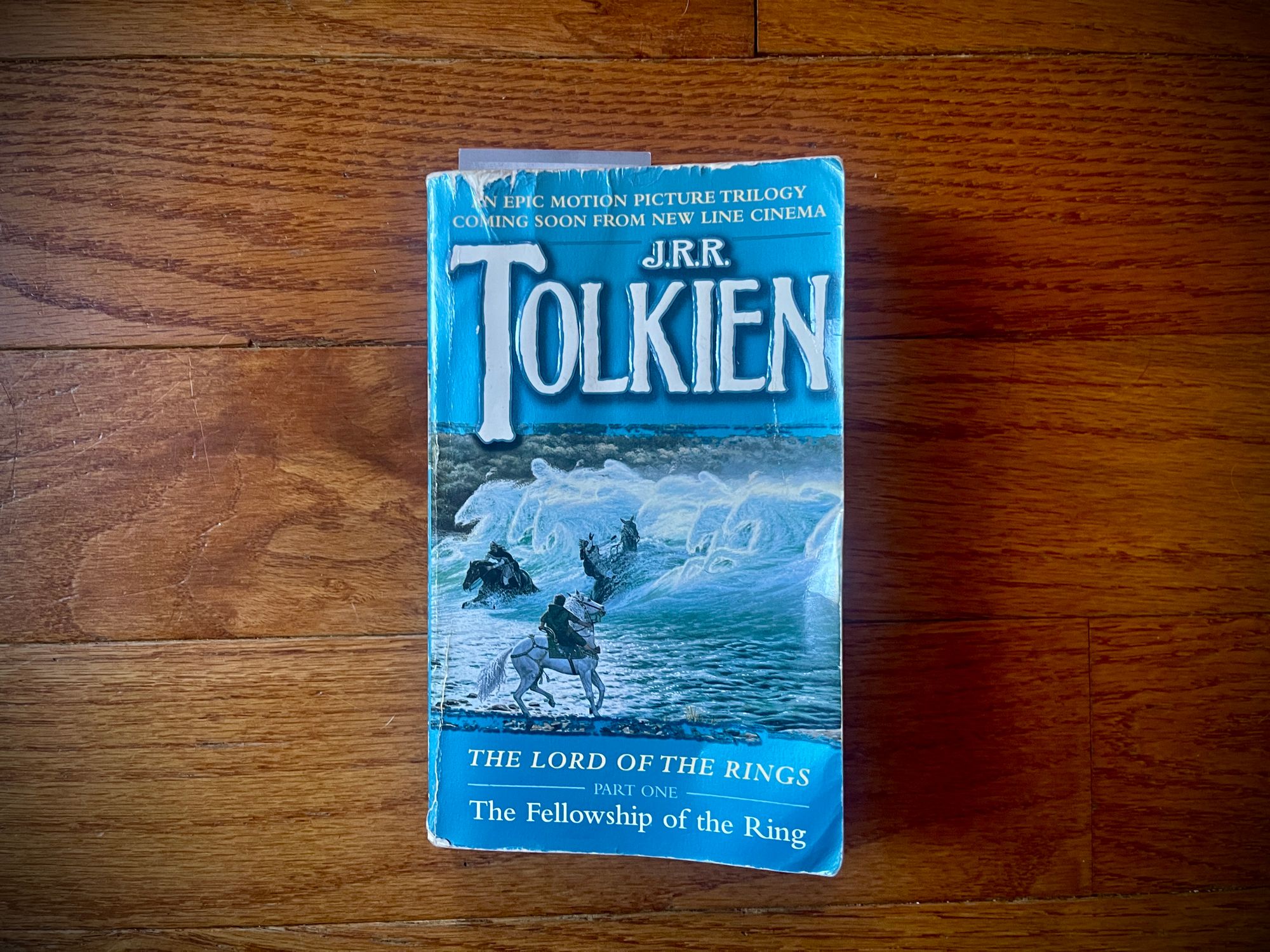 I had to pick it up, initially thinking that it would be good to stick into my Little Free Library. But over the weekend, I ended up reading Ken Liu's annotations of the novel on Goodreads, and ended up picking it up to skim. Hours later, I'm deep into it. It's been a couple of years, so it's a good return to untangle my memories of the book and Peter Jackson's films. I've got fond memories of both, but it's interesting to see how much the adaptation changed — especially as there are a vocal group of fans complaining about how Tolkien's being defiled by Amazon's new series. (I'll likely have thoughts about that later.)
The other book that's moved to the top of my list is S.B. Divya's Machinehood, which I started last year but put aside. I also had the audiobook, and with a gap in my reading list / listening list, I figured it was a good time to give it another shot. It's interesting so far.
Other books on the long list: Phasers on Stun! by Ryan Britt, The Hand of the Sun King by J.T. Greathouse, Damascus Station by David McCloskey, The Middling Affliction by Alex Shvartsman, and Star Wars: Shadow of the Sith by Adam Christopher.
I ended up finishing Emily St. John Mandel's Sea of Tranquility, which I really enjoyed, as well as Christopher Wren's Those Turbulent Sons of Freedom: Ethan Allen's Green Mountain Boys and the American Revolution (I learned a lot from this), Silvia Moreno-Garcia's Velvet Was the Night (which I liked, but it didn't blow me away), and Pictures by J.R.R. Tolkien, which was a gorgeous read.
---
Further Reading
This week has been a massive news dump in the world of SF/F entertainment, and I figure it's a good time to round everything up in one place:
Amazon canceled its Paper Girls subscription
Brian K. Vaughn scored an adaptation of his comic book Paper Girls back in 2020, and the series debuted earlier this year to rave reviews, many of which praised it for its differing take on a nostalgic 1980s from that of Stranger Things.
Sadly, the series won't get a second season: Deadline reported that Amazon decided not to renew the show despite that audience rating, although they do note that Legendary (the studio behind the project) is looking to shop it around. The publication notes that it might have been crushed by Rings of Power and the major marketing campaign that came ahead of it.
It's a shame: I really enjoyed the comic when I read it last year, and it's still on my to-watch list. Hopefully, it'll find life somewhere else down the road.
AMC debuts new trailer for Interview With The Vampire
After years of work, AMC's finally gearing up to release its adaptation of Anne Rice's best-known novel, 1976's Interview With The Vampire, which is due out on the network on October 20th. The series stars Jacob Anderson (Game of Thrones), Sam Reid (The Newsreader), Bailey Bass (Avatar: The Way of the Water) and Eric Bogosian (Succession), and follows the story of a vampire named Louis de Pointe du Lac (Jacob Anderson, Game of Thrones) as he recounts his story to a reporter, Daniel Molloy (Eric Bogosian, Succession), starting in 1791 when he meets a vampire named Lestat de Lioncourt (Sam Reid, The Newsreader).
The series had originally been set up at Hulu, but back in 2019 the streaming service opted to pass on the project, after which AMC decided to pick it up in 2021, along with another series adaptation from Rice, Lives of the Mayfair Witches.
This isn't the first time we've seen an adaptation of Rice's Vampires work: 1994 saw an adaptation of Interview With The Vampire starring Tom Cruise, Brad Pitt, and Kirsten Dunst, and a followup, Queen of the Damned (famously starring Aaliyah) followed in 2002, although it wasn't well received. This feels like the perfect thing for AMC to pick up, especially as The Walking Dead seems to be winding down: Rice penned 13 installments of the series before her death in 2021.  
Black Adam gets new  trailer
One of the films to survive Warner Bros.'s recent bloodbath is the Dwayne Johnson vehicle Black Adam, the first adaptation of the antihero's story from DC Comics. There's been a lot of shifting around of the various projects under that umbrella, with two of its major projects, Shazam!: Fury of the Gods and Aquaman and the Lost City getting bumped back to 2023.  
So, Black Adam is going to get a lot of attention and commentary weight placed on it as the sole vehicle of the DC universe for the rest of this year. The studio released a new trailer reminding people that it's coming, and it looks like it'll be a solid superhero project: lots of action and fight scenes, and The Rock doing what he does best. We'll see if it's enough to carry the franchise along for another couple of months while they figure out what they're doing.
China's adaptation of Three-Body Problem debuts this month
Remember how Netflix scooped up the rights to adapt Liu Cixin's Three-Body Problem? There's another big adaptation coming in the story's country of origin, and it's coming out later this month.
Per Bleeding Cool, the first season of the show will have 24 episodes, and it looks like it's holding pretty closely to the novel, judging from the trailers that dropped last year and earlier this summer. It doesn't look like there's an exact release date just yet, but from the sounds of things, it might end up streaming on YouTube via Tencent's channel.
There have been a bunch of adaptions over the years: a failed film attempt that was shelved, but also an animated version called My Three-Body that's on YouTube in Minecraft-style animation, and another animated series from China that I haven't heard anything about lately. There's also been a handful of graphic novel adaptations of Liu's short stories in the last year, which are quite good.
Dragon Award winners
Labor Day weekend meant that Dragon Con was in full swing, and along with that, its annual Dragon Awards. This year's winners are a solid booklist: James S.A. Corey's Leviathan Falls won for Best Science Fiction Novel, Holly Black's Book of Night earned Best Fantasy Novel, and Chuck Wendig's The Book of Accidents won Best Horror Novel. You can see the full list here.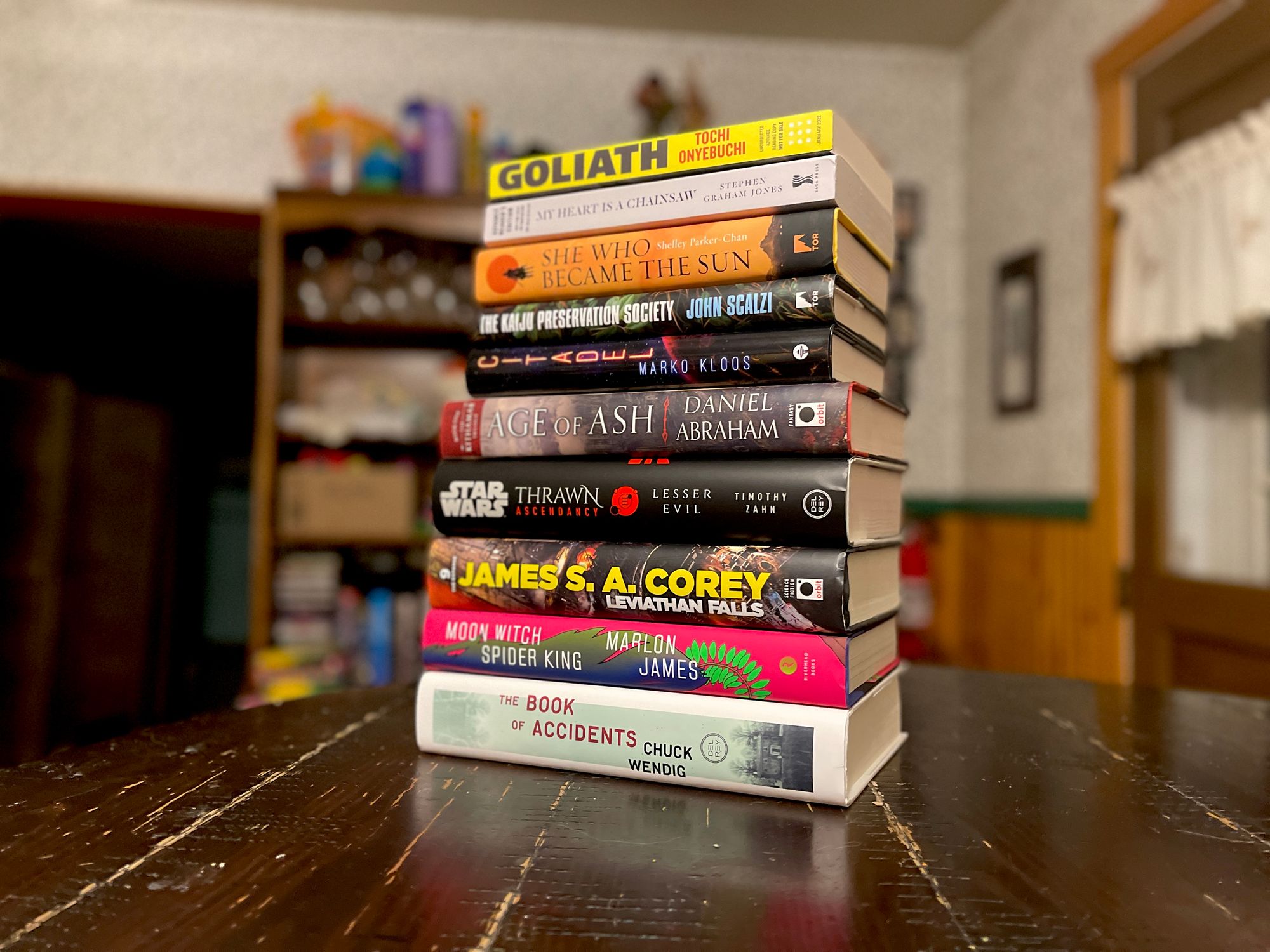 Netflix's Glass Onion gets first trailer
I enjoyed Rian Johnson's film Knives Out when it premiered a couple of years ago, and I've been excited to see what he does with its followup, Glass Onion. This one's due out in December, which should make for some excellent holiday viewing.
Hulu's The Handmaids Tale is coming back for a sixth and final season
When Hulu debuted its adaptation of Margaret Atwood's The Handmaid's Tale back in 2017, the Trump administration was just getting started, and it seemed like the show would be more relevant than ever — an it's remained so, even as it's been hard to watch at times.
The show's set to debut its fifth season this week, and with that release coming up, Hulu announced that it's renewing the series for one final season before it brings it to a close. It doesn't look like they'll be done with Atwood's dystopic world just yet: it's actively developing a spinoff based on her sequel novel, The Testaments. The network is also looking to adapt her climate change story, the Maddaddam trilogy.
Hugo Awards announced
Labor Day weekend also brought with it another big award: the Hugos, at this year's ChiCon8 in Chicago. This year's finalists list was excellent, there was some of the usual, low-level drama surrounding the awards and ceremony, but I was pleased to see that Arkady Martine won for Best Novel with her book A Desolation Called Peace, which was one of my favorite reads of last year. I was a little bummed that Elder Race by Adrian Tchaikovsky didn't win for Best Novella, but that's always how it goes, isn't it?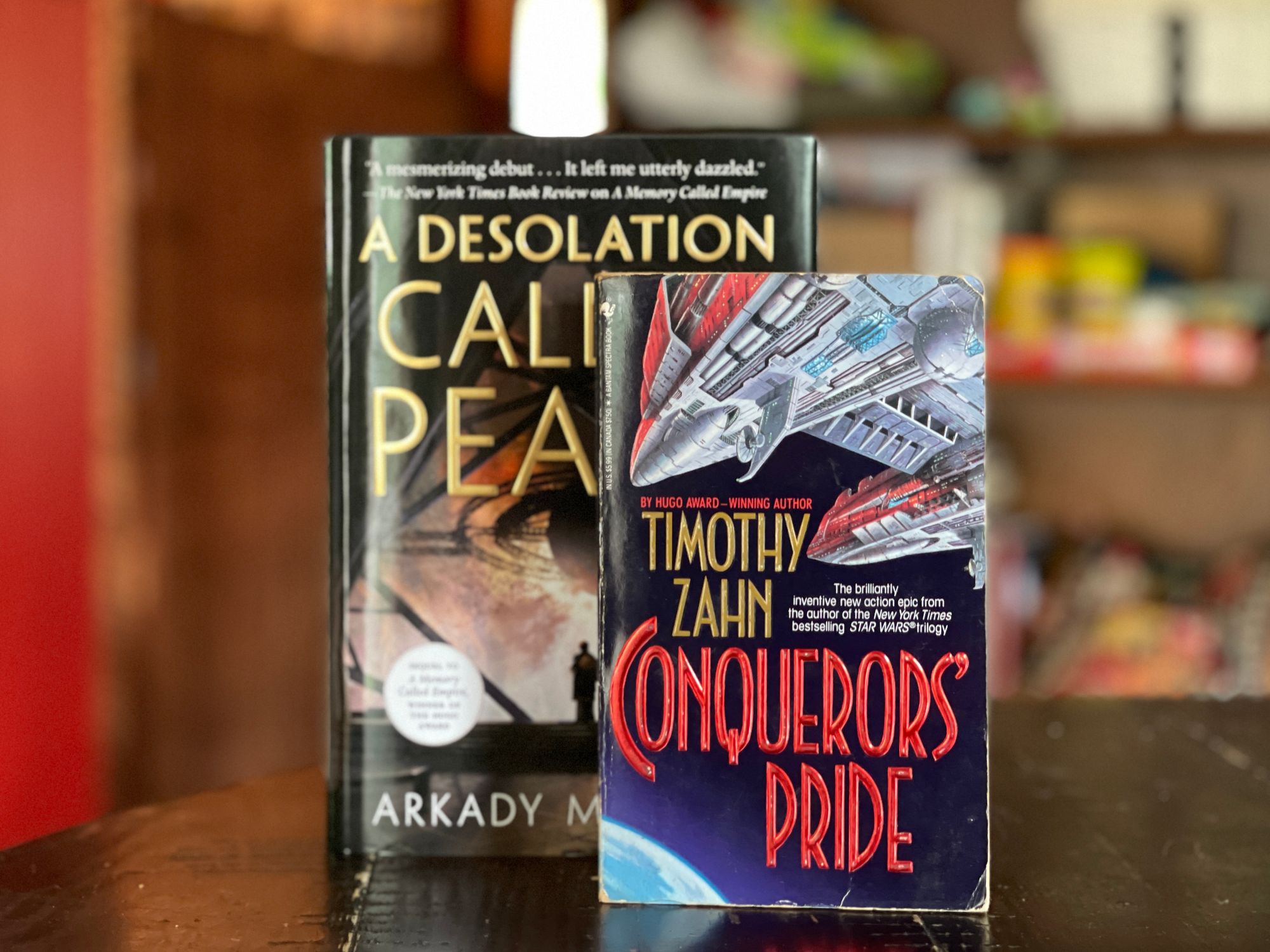 Naomi Novik's His Majesty's Dragons might be getting an animated adaptation
This is pretty cool: Fox is working on a bigger push with animation as its working to renew some of its stalwart shows like Family Guy and The Simpsons, but buried in a report from Deadline is word that the network is looking to adapt Naomi Novik's His Majesty's Dragon, although they note that it's in development and that they've committed to scripts, rather than a series or pilot greenlight. Fingers crossed!
Netflix has greenlit a live-action Assassins Creed series
The news wasn't only dominated by Disney over this last weekend (more on that in a moment). Ubisoft held an event, in which they revealed that Netflix had formally greenlit a series based on its Assassins Creed franchise. The series has been in the works for a little while, but it's the latest attempt for the streaming service to bring over yet another game franchise for an adaptation. Hopefully, that'll go better than its Resident Evil adaptation, which was dropped after a single season.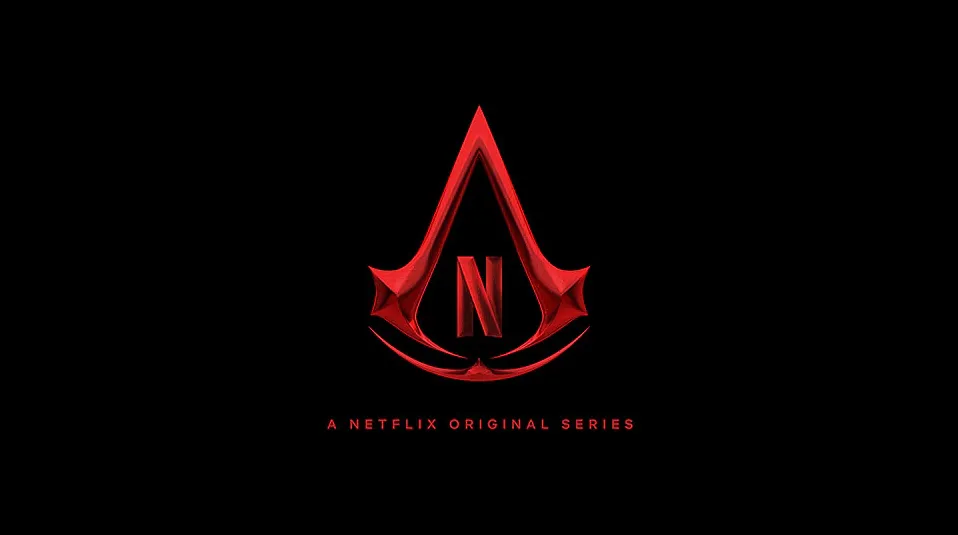 Nommo Award winners
Also at WorldCon last weekend was the announcement of the 2022 Nommo Awards, presented by the African Speculative Fiction Society. T.L. Huchu won for his book The Library of the Dead, which I was pleased to see: it was a fun read. Here's the rest of the winners.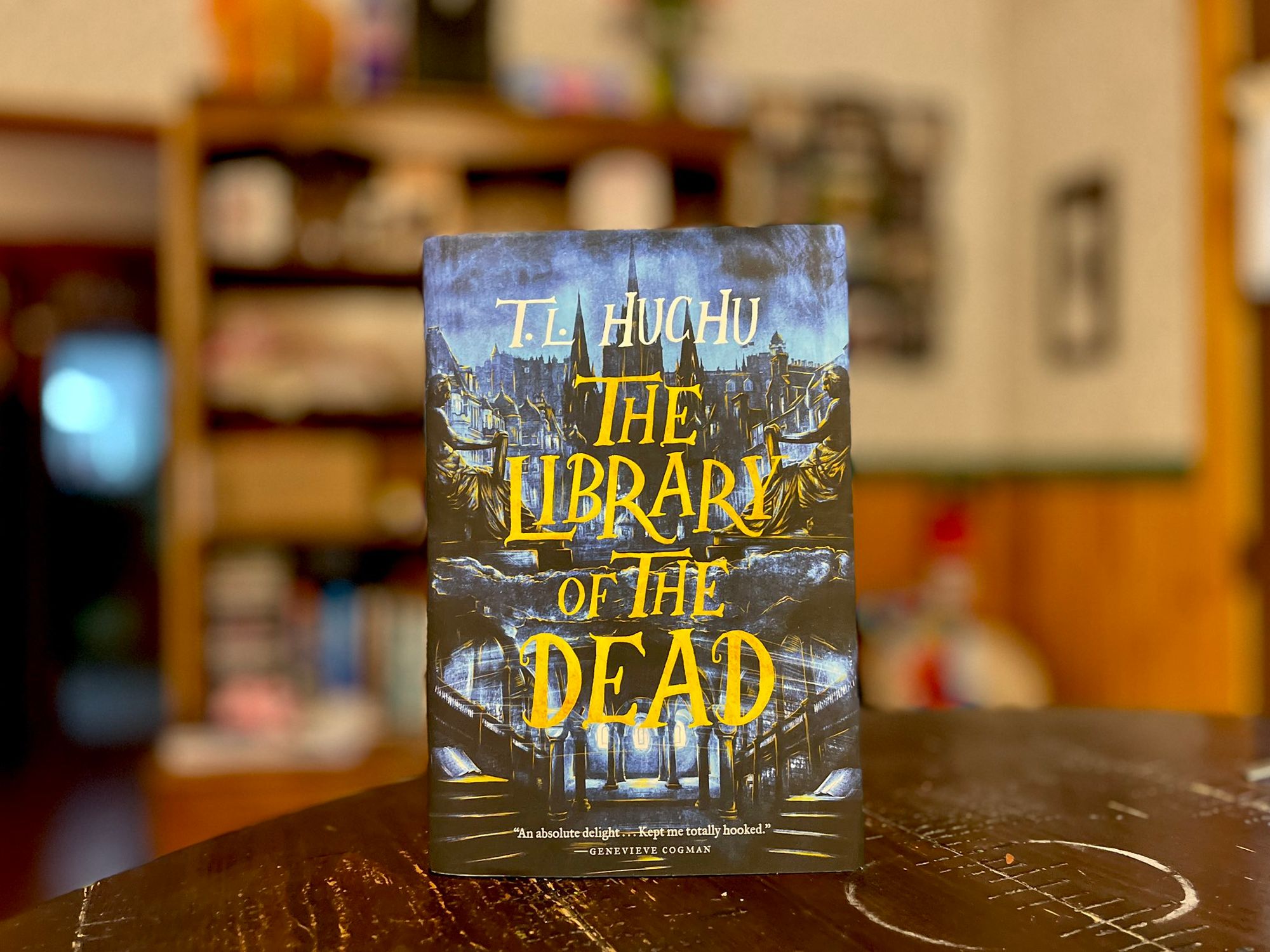 Percy Jackson and the Olympians returns
This is one of those cases where streaming TV has been a hoped-for redo for a bad adaptation. The original Percy Jackson adaptation was slammed for how it diverted from the popular book series. Now, Disney+ has been working on an adaptation, and it debuted a first teaser trailer for the project at the tail end of D23 this past weekend. There's not much too it, but it feels like a solid project for the streaming service. No release date for this one yet, but Deadline is saying sometime in 2024.
Peter Straub dies
In sad genre new, Horror legend Peter Straub died. This one hits close to home for a number of friends of mine, who were good friends with him through conventions like ICFA and WorldCon. You can read obituaries at The New York Times and Locus.
Quantum Leap gets full trailer
I never got into Quantum Leap: I think I started watching TV at the wrong time, but NBC is working to bring the series back with a new revival. It debuted a new trailer for the show (which debuts on September 19th), which looks like a lot of fun:
Mercedes Lackey's Valdemar Universe picks up a studio
Last year, word broke that some of the folks working on Wheel of Time were setting their sights on another fantasy property: Mercedes Lackey's Valdemar Universe, with the goal of producing a TV series.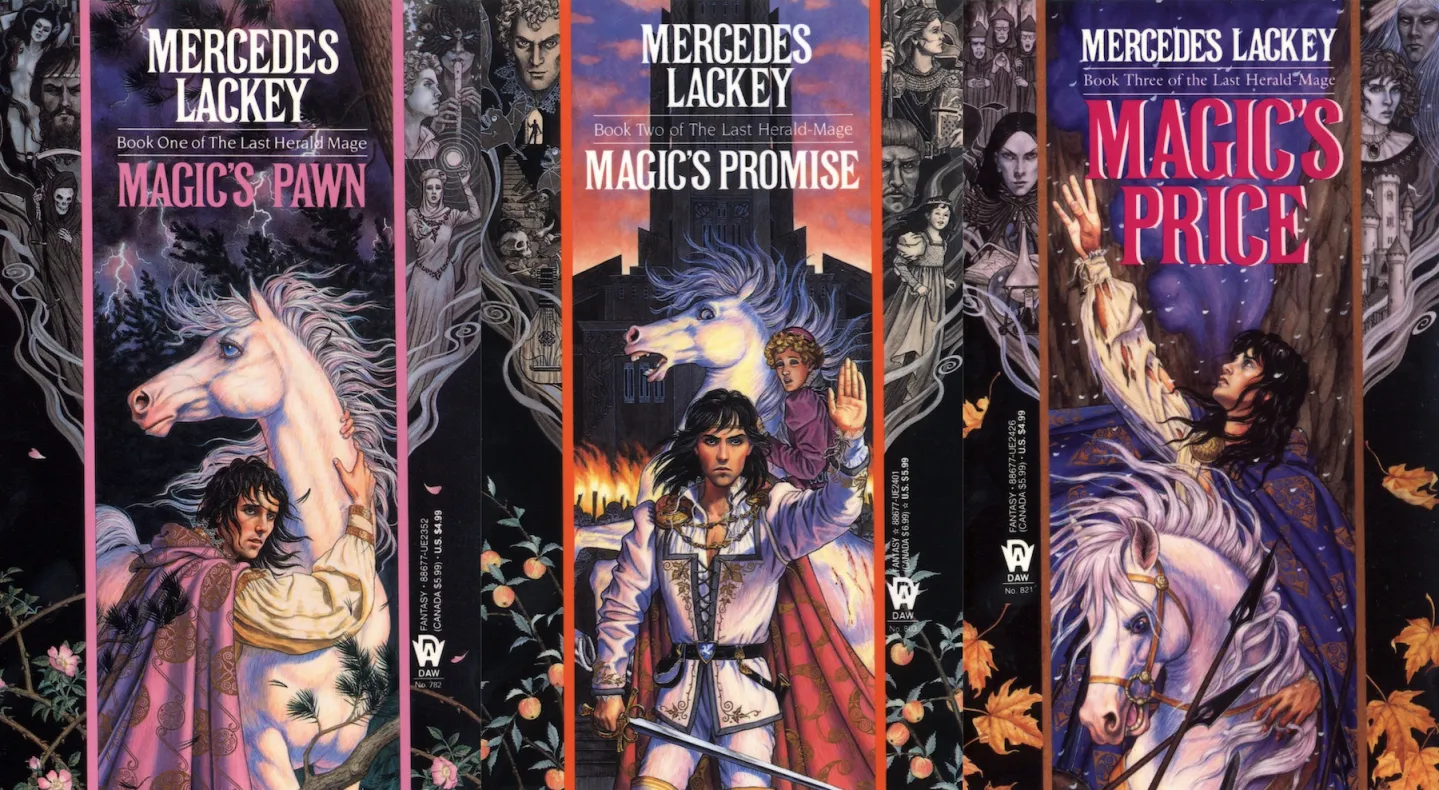 Now, it looks like there's some forward progress: Deadline reports that Universal Television will take the project under its wing, which seems like a good development. Universal has Peacock and NBC, so it seems likely that we'd see the series pop up on either of those outlets.
The Peripheral gets its first trailer
One series that I've been looking forward to for a while is Amazon's take on William Gibson's The Peripheral, which is being created by Lisa Joy and Jonathan Nolan. The streaming service dropped a first trailer for the project last week, which I wrote up here: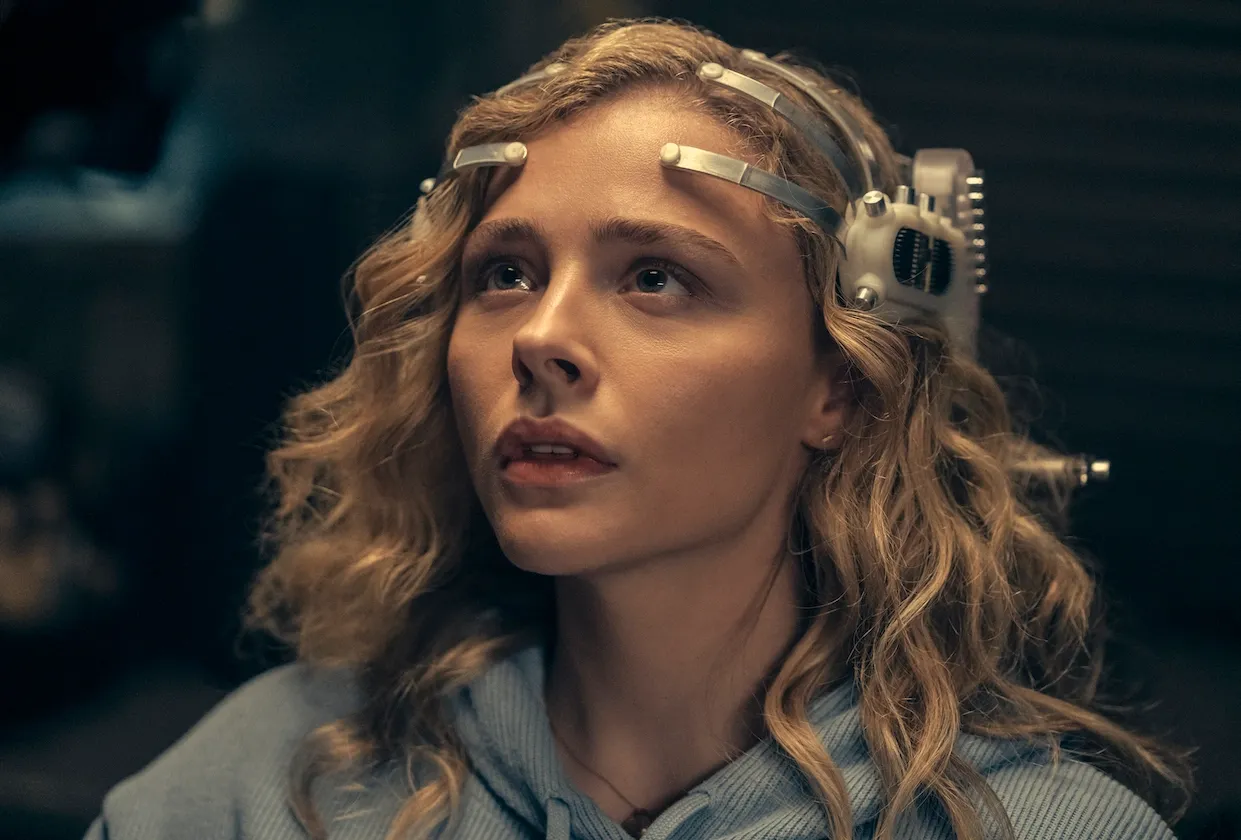 Willow full trailer
Disney dropped a ton of announcements over the weekend for its D23 convention, but one of the things that I was very happy to see more of was its upcoming fantasy series Willow. Lucafilm released a full trailer for the project for audiences, which looks like it'll be quite a bit of fun:
There's lots of fantasy-looking landscapes and magic taking place, and it'll be interesting to see how it follows up on the film film.
---
Okay, the last three I'm splitting into their own section because there was a lot.
Marvel
Marvel had some good time to shine during this year's 23, and there were a ton of updates about a whole bunch of upcoming projects.
Black Panther: Wakanda Forever, Ironheart, Ant-Man and the Wasp: Quantumania, Loki, Echo, Daredevil: Born Again, and The Marvels: all got either soundbites / updates or brief teasers that haven't made their way online just yet. Presumably we'll get first looks at Ant-Man/Wasp and Ironheart when Black Panther hits.
Fantastic Four: after lots of rumors, Matt Shakman has been confirmed as the director for Fantastic Four. No casting info, but that's not a huge surprise, given that he's just come onboard.
Secret Invasion: We got a full trailer for one of the next Marvel shows, and this one actually looks a lot more interesting than I had been thinking. It's bringing to a forefront a bunch of things that have been teased throughout some of the recent films and shows, and i'm intrigued by the thriller element to it. And, it'll lead to...
Armor Wars. We haven't had a ton of updates or chatter about this particular project lately, and I think that a bunch of folks started to write it off. But, it looks like it'll be something of a sequel to Secret Invasion, which sounds all sorts of exciting.
Thunderbolts. This one was announce back at San Diego Comic-Con, but I hadn't given it much thought. It looks like a fun teamup of some of the franchise's antagonists that we've seen over the years: Bucky Barnes (Sebastian Stan from Captain Americas 1-3/Falcon and the Winter Soldier), Yelena Belova (Florence Pugh, Black Widow), the Red Guardian (David Harbour, Black Widow), Taskmaster (Olga Kurylenko, Black Widow), Ghost (Hannah John-Kamen, Ant-man and the Wasp), U.S. Agent (Wyatt Russell, Falcon and the Winter Soldier), and Valentina (Julia Louis-Dreyfus, Falcon and the Winter Soldier). I like all of those characters, so it should be a fun outing.
Werewolf by Night: new black and white Halloween special that'll drop October 7th. Eh? Not quite my thing, but it should be interesting to comics/horror folks.
Star Trek
Not at D23, but last week was Star Trek Day, so Paramount used the opportunity to get into the news cycle:
Star Trek: Discovery: Season 5 is currently filming, and we got a behind-the-scenes look at what they've been working on.
Star Trek Khan: Ceti Alpha V: this looks like an interesting project. It'll be a scripted podcast from the director of Wrath of Kahn Nicholas Meyer, which will "examine what happened in the years after Captain Kirk left Khan on the untamed world of Ceti Alpha V and tells the story of Khan and his followers" prior to the film. No release date, but it'll drop sometime next year.
Star Trek: Picard: Season 3 will be its last, and it got a trailer packed with the rest of the cast from The Next Generation. The season will premiere on February 16th, 2023.
Star Trek: Prodigy: The second half of the first season returns on October 27th, just after Lower Decks wraps its currently-airing season.
Star Trek: Strange New Worlds: the second season is currently filming, but while there wasn't a teaser for it, we did get a fun clip featuring Lt. Ortegas as a first glimpse.
Star Wars
Back to D23 news, Lucafilm brought a whole bunch of updates about some upcoming projects:
---
That's it? I think? I'm sure I missed something along the way. Thanks for reading this far. I'll be back later this week with a mid-September book list, and maybe another thing later.
Have a good rest of the week,
Andrew